Diana Forster is a visual artist who draws inspiration from conflict art, art and science, and art-making practices. After a first degree in botany and a career in educational publishing, Diana obtained her BA Degree in Contemporary Fine Art from Oxford Brookes University in 2017. She has exhibited at Wolfson College, Oxford University (2015), Christ Church Cathedral, Oxford (2015), and has had a number of solo exhibitions in Poland (2017). Her exhibition Such a Long Journey will be at The North Wall in Spring 2021.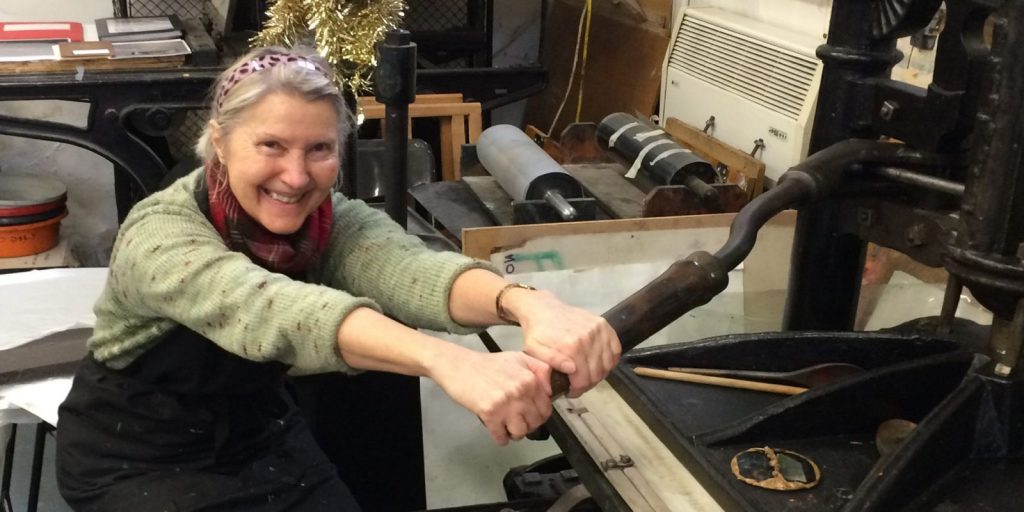 Q: You have had an amazing journey from science to educational publishing, and finally to your art practice. What inspired you to make this transition?
I have always drawn in my spare time and went to life drawing classes in the evenings at Central Saint Martins when I worked in London. I wanted to develop my skills further but my work in publishing took over until retirement in 2009 gave me the opportunity for serious study. I was accepted onto the Art Foundation course at Oxford Brookes and then the Degree in Contemporary Fine Art. I was intending to expand my drawing skills and get to grips with painting but Brookes encouraged me to experiment with lots of different media. I was encouraged to look for the best medium in which to express a concept be that video, sculpture, print, paint or digital image.
Q: In the past, you have worked with Polish craft and small sculptures to create your works. What medium have you taken up for this current project?
For the exhibition at The North Wall, I decided to develop my printmaking skills. I had experimented with several techniques at Oxford Brookes including dry point, etching and screen printing, but the simple graphic images I had created for the birch wood panels lent themselves to linocut prints and I wanted to continue the theme of the naïve images of the traditional Polish paper cut. I had created the images in Adobe Illustrator and it was easy to rework them into new images but I drew some other images the traditional way with paper and pencil. I joined the Oxford Printmakers' Cooperative to use their wonderful old press.
In reworking some of the images in Adobe Illustrator I decided not to turn them into linocut prints, but instead to print them as giclée prints (printed on high end inkjet printers using light-fast ink on art papers). Some of the lines I had drawn were very thin and would not have reproduced well in a linocut. Also, an image created in Illustrator can be printed at any size thus opening up possibilities for exhibiting in particular spaces. But making this decision threw up some interesting issues between digital and hand pulled prints: is a perfect digital image as interesting and pleasing to look at as a hand pulled one with its imperfections?
Q: You call your work 'conflict art', what does the term mean to you?
I don't see my work as war art as this term has connotations I am not in sympathy with. War art has been made to glorify war and battles, and has been used as propaganda. The term 'conflict art' is much broader and doesn't carry the same baggage. My work focuses on the experiences of a particular group of innocent civilians caught up in a conflict and forced to leave their homes for an unknown future in a terrible place. But, as we know, thousands of people in many parts of the world are still suffering the same fate.
In creating my conflict art, I don't show horrific images as these can turn people away and leave them with a secondary traumatization. They do not want to engage with such images, and opportunities for reflection on what is happening to the people in the works are lost. I prefer a different approach in which the formal qualities of images and sculptures engage viewers in a non-threatening way and the stories behind them are gradually revealed.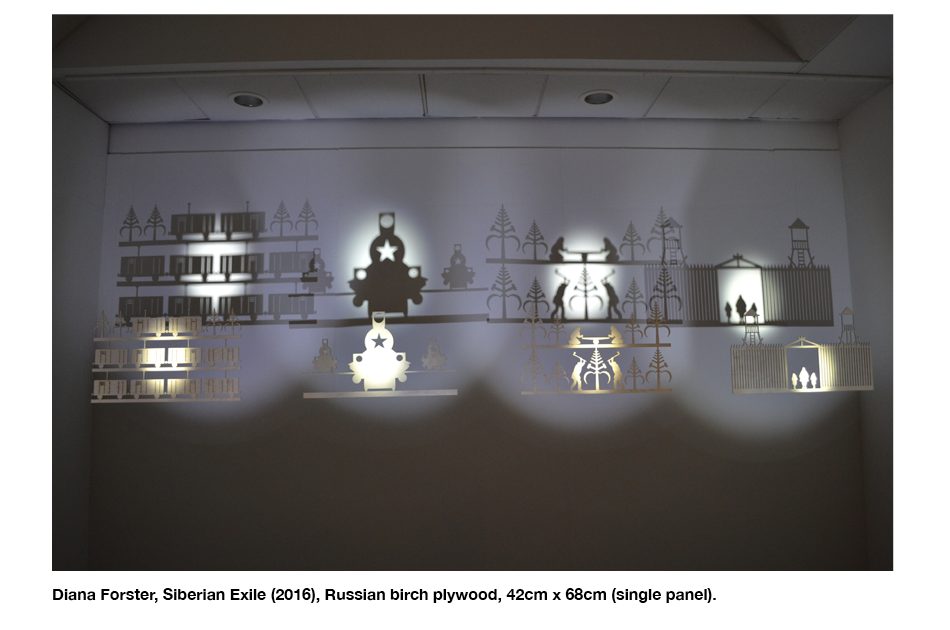 Q: What role do you think medium plays in communicating your artistic message?
Medium really came to the fore when I was planning the panels for Siberian Exile. I had already decided to appropriate the Polish craft of paper cutting (Wycinanki) but what would I cut my images from? My mother's labour camp was deep in the forests and the deportees had to cut down trees. I decided to laser cut the images from wood and discovered that Russian birch plywood was amongst the best for laser cutting. The coincidence was astonishing and added another layer to the work. I wanted to front light the panels so that shadows would be thrown on the wall behind but the light would have to be a very cold white to suggest snow and harshness. I discovered this light in professional torches used by firemen and the police.
The medium of monochrome printmaking using only black ink on cold white paper was also important for the scenes from the labour camp. Again, it was important to communicate the bitter cold and the starkness of the camp surroundings in the images. No comfort here.
I started using colour for the stages of the journey that were hot and colourful, and such a contrast to Siberia. Tashkent in Uzbekistan with its ordered, geometrical, coloured mosques and domes lent itself to a linocut image.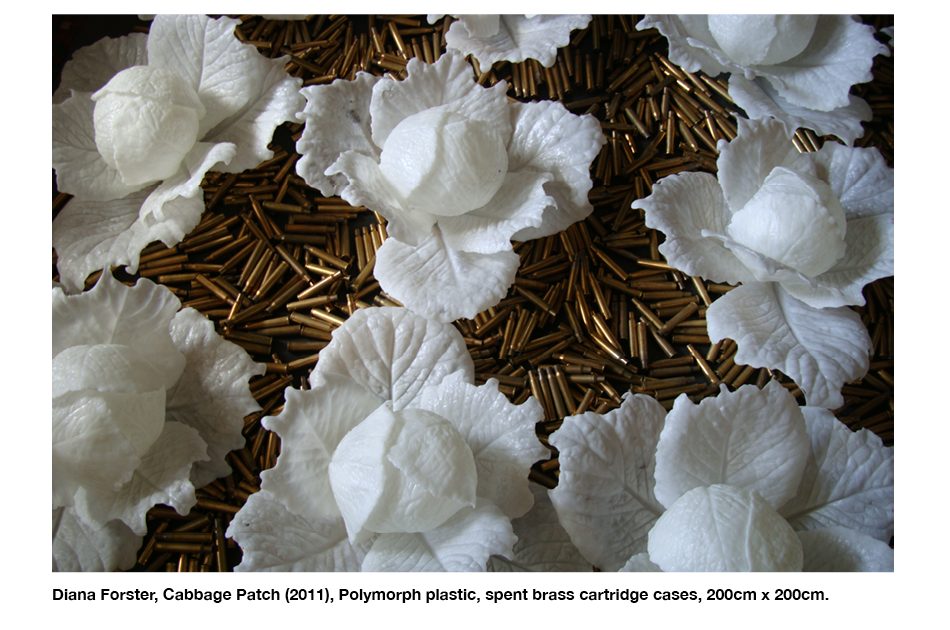 Q: The story you tell with your work Cabbage patch is particularly moving. How did you approach creating this piece and how did you decide the aesthetics for it?
Creating Cabbage Patch presented some difficult challenges. When I decided to create a number of cabbages, I had to find a way of making them. I wanted them to be slightly different from each other, and I wanted to show that the leaves had been nibbled. I discovered a plastic substance called Polymorph that could be melted in hot water and then moulded. I experimented with rolling the melted Polymorph into a thin layer with a rolling pin and then pressing it onto Savoy cabbage leaves. It picked up the veining of the leaves beautifully. I nibbled the cabbage leaves as my mother had done on her hands and knees illicitly at night in the guards' garden in the labour camp. (The guards thought that animals were to blame.) I then stretched the molten plastic onto the leaves and around the nibbles. Polymorph is cold white in colour and so was perfect for the Siberian theme.
I wanted to place the cabbages on a bed of spent brass cartridge cases as the deportees were forced from their homes at gunpoint and were pushed around by soldiers with rifles. I was able to order a large number of these on the internet from a supplier to the hunting, shooting and fishing fraternity. They tarnish when exposed to the air so before exhibiting the piece I polish them by soaking them in Coca Cola!
Q: You work at the intersection of art and science and art and digital imagery. Do you see these fields becoming increasingly important in the online art communities and given our current circumstances?
The opening up of virtual art galleries in our current circumstances has been immensely helpful. Although not nearly as good an experience as seeing the actual exhibits, it has been good to see some of them online. Perhaps when life returns to 'normal' a way will be found to put these exhibitions online as a matter of course so that, for an 'entry' fee, people can see all the pictures at their leisure. Many people cannot travel to London for big blockbuster exhibitions.
The growing area of Science and Art (SciArt) deserves far more than a brief mention. Today artists are making work inspired by many branches of science including electronics, robotics, genetics and physics. Artists use techniques developed by scientists to make work, and have formed some fruitful collaborations to help with visualization. Given some of the areas of science being explored, they will become increasingly important to online art communities.
Digital imagery is changing the way people see and buy art. It is now possible to see a digitally created image on line and purchase it as a digital image to view in a digital picture frame. No traditional medium is involved. As we become more used to seeing fine art in digital format, we may want to buy and view some pictures in this way; David Hockney's iPad drawings are created with the back lighting of the device and it can be argued that this is how they should be seen.
Q: It is inspiring the way you have artfully communicated a traumatic past. It is at the same time an emotional, personal experience as well as informative without causing a second-trauma to your viewing audience. What  advice would you give to aspiring artists working with subversive mediums to communicate traumatic histories?
I would suggest avoiding making disturbing images that may traumatize your audience and instead try to create layers that viewers can gradually work through, giving them the chance to slowly understand the messages and experience a sensation that will stay with them. Multimedia works and installations offer many possibilities for creating these layers, and for using very different media including digital, sculptural, and video.
Installations also offer the possibility of creating an immersive experience if viewers can enter a space created to surround them. Cornelia Parker's War Room is an excellent and powerful example of this.
Q: Who are your inspirations for your new work and what do you hope audiences take from your exhibit coming to the North Wall?
I am constantly inspired by artists who work with layers of complexity that engage viewers and give them space to contemplate the effect of conflict on ordinary people's lives: Doris Salcedo (Casa Viuda), Cornelia Parker (War Room), Alfredo Jaar (The Eyes of Gutete Emerita), Jeremy Deller (We're here because we're here). 
For my new work with linocut prints, I have been looking at the work of artists who create expressive, atmospheric relief prints such as Edward Bawden, a British master of linocut, and the woodcuts of the Canadian Japanese artist Naoko Matsubara. I hope my linocuts point up the very strong contrast between the sights and cultures that the deportees will have seen and experienced on their long journey from their simple, comfortable homes in Poland to safety in traditional mud huts in East Africa.
I hope that my work at the North Wall will provide audiences with an immersive experience, layers of complexity for contemplation, and a sensation that is sustained.