We are very proud of our North Wall Creative Associates: 10 individuals and companies with a special relationship to The North Wall, representing the best and brightest of UK theatre.
Tom Brennan is a director, playwright, and occasional actor. He is a member of the Bristol-based Wardrobe Ensemble, making playful, energetic and often irreverent work about the 21st century experience. Tom's work with the company has been performed at The National Theatre, Soho Theatre, and Bristol Old Vic. He was previously a resident director at the Almeida Theatre. His work includes The Last of The Pelican Daughters, 1972: The Future of Sex and Education, Education, Education.
Tell us about your relationship with The North Wall?
I knew nothing about The North Wall when I applied for Catalyst, their first writer's residency in 2015. I was really surprised that I got in. My time on that residency was unforgettable. I felt so supported. I met some wicked people. I remember writing all day long, everyday for 2 weeks. Since then, I just want to be there all the time. I've worked as a writing mentor on subsequent Catalyst residencies, and have led SAFARI, a summer ArtsLab programme for performers and producers with my company The Wardrobe Ensemble. The way it's run, the warmth and intelligence of the staff, the intensity and fun of the residency and festival format. I love it all.
What is at the heart of the work that you want to make?
That is such a tricky question. I think that's shifting for me a lot at the moment.
I'm attracted to contrasts. Loud/quiet, universal/specific, accessible/weird. Big historical ideas and little human moments, broad, outrageously silly comedy and unexpectedly tender emotion. I like specifics. I like humour. I like complexity.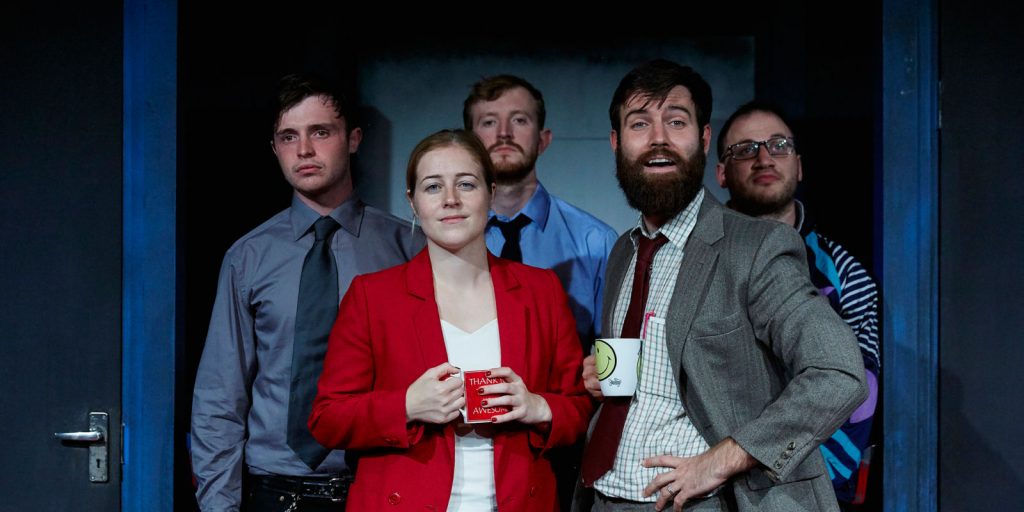 What's a day in the Wardrobe Ensemble rehearsal room like and what's your role in the room?
A day with the company can look different at each stage of the process. But we do always like to start everyday with a ball game followed by a bit of yoga. We always end with a ten minute debrief to discuss any issues that might have come up that day and to reflect on the process.
I'm often a director and so early on in a process I facilitate the room, leading the company through exercises and setting devising tasks that I will probably take part in. As things develop it gets foggier and foggier. In the middle of the process, I'll spend a lot of time writing and getting the structure together. Towards the end of the process, it looks much more like traditional directing. But often, we'll be working on a scene with actors, while the second half of the play doesn't exist. It's all very terrifying and weird.
How does your approach to directing for film and theatre differ?
The shape of the process is very different in each artform.
In theatre the big climax comes when you put the damn thing on. Then everyone celebrates in the bar after. In film on the other hand, you have this big climax in the middle when you shoot it. But then it's back to work putting the edit together. So you miss that catharsis. Maybe it happens when you show the film? But by that point, everyone has done a bunch of other stuff and has maybe forgotten the love and intensity of the project.
But at a smaller level, I think directing in both mediums rely on the same skills: an ability to communicate to different kinds of people in ways that are useful to them and an ability to be specific and empathetic.
Can you tell us more about your short film A Woman Walks into a Bank?
It's about the true story of a very strange bank robbery that happened in 1974. It's about the flexibility of belief and the ease with which people might become radical. It's also about method acting and the act of storytelling.
I've been wanting to make a short film for years and have written quite a lot of them. I've been searching for the right circumstances for ages. I think I was waiting for permission, for someone to tell me it was okay to make one. But last summer I wrote this short (really very quickly) and it all just felt right. I found a team, we raised a little budget using Kickstarter, cast a bunch of me theatre mates and then made it over a few days in March. I had the best time. I've been editing it during lockdown. We're gonna submit it to festivals in the autumn.
What show or project has brought you joy over the last few years?
See above answer.
Which artists or pieces of work (any medium) helped you through lockdown?
Because I haven't been making a lot of stuff, I've got a lot of these. Too many? Maybe.
Okay. Firstly, we've got a projector in our house. They are often way cheaper than TVs, and they are just the best way to experience any screen-based thing. They make everything more thrilling. I honestly don't think I can live without it. So I have to say, and I'm aware of how snobby this sounds, but I can't vouch for any of these films without a good, big screen and decent sound.
So FILMS:
Trey Edward Shults' Waves was such a powerful emotional experience. Shults is such an underrated filmmaker. He described this film as 'a panic attack followed by a hug', and if that feels like your jam, this film comes highly reccomended.
Celine Sciamma's astonishing Portrait of A Lady on Fire. It's just so moving. I felt so transported to a time and place. Been on my mind a lot. Some of the images are breathtaking.
Kleber Mendonça Filho and Juliano Dornelles' Brazilian-weird-western Bacurau is wicked fun. Really unlike anything I've ever seen. I don't want to say much, but it plays with genre in such an exciting and political way.
I re-watched David Lean's Doctor Zhivago over two nights. Boy oh boy. They do not make 'em like that anymore. The scope, scale and visual artistry on display is breathtaking.
Re-watched Jordan Peele's Us for the third time, and the screams of my housemates secured it's place in my top ten of all time. What a nasty little film. I find it so affecting and troubling.
On a bit of a horror/thriller-flex at the mo, so I'd also recommend The Invisible Man, 10 Cloverfield Lane, Midsommar and the bizarre Korean vampire film Thirst.
TV:
Cheer – Is Cheer the best tv show I've ever seen? Maybe? All of America is here, and it is a wild, emotional ride.
Watchmen – So well made. Fun, political, difficult.
Our house also watched the first season of The Leftovers and had such a good time. It's so silly and American and dramatic and we loved it.
Obviously I May Destroy You is brilliant. I've been getting through it slowly, because I'm finding it so anxiety inducing.
The Midnight Gospel is a deeply trippy and moving animated show. Probably not for everyone. My partner did not vibe it.
Feels like a long time ago, but obviously Normal People, because you know, I have a heart.
BOOKS:
I loved Ben Lerner's The Topeka School and Tayari Jones' American Marriage.
Terrified of being bored, I bought a PS4 at the beginning of lockdown. And just to say, holy heck – video games! They've changed a lot since I was a teenager!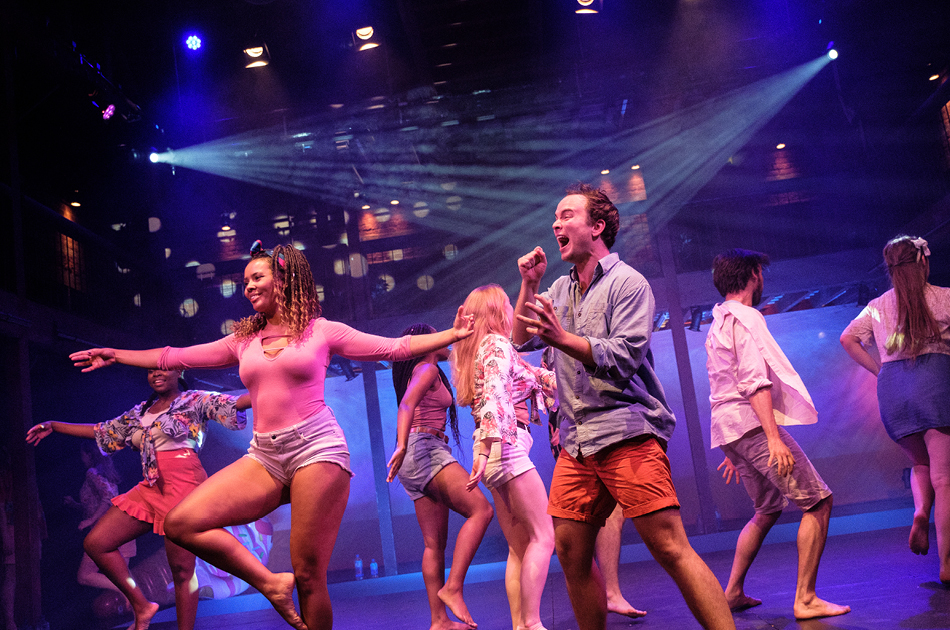 What advice would you give to early-career theatre-makers?
1. Make stuff. It's so important to remember that a bad thing is better than no thing. It really, really is. I think early career artists can get stuck in the workshop phase. It's okay to make a thing and call it done. It's only a play.
2.Your voice and experience is valid.
The way that you express yourself creatively is unique and important. Making stuff is often a process of working out who you are and what it is you want to say. Art making is allowed to be messy, weird and difficult. Try to enjoy all that goes along with that.
3. It's important to acknowledge who you are and what you've got to play with (and what you don't). I don't think it's as simple as 'write what you know' but you will always 'write what you are'. I think this applies to any discipline. Early career theatre-makers can feel frustrated that the show they wind up making doesn't look like the show that they have in their heads. But the show they have in their heads, doesn't exist and never did.
You can't write like Sarah Kane or David Hare if you ain't Sarah Kane or David Hare.
If your actors can't move like ballet dancers, then stop trying to force the ballet scene into the play.
If you don't have fancy lights, you can't make the disco scene look very good.
The list goes on.
Instead, try to examine the unique ingredients that you do have to play with. They are going to be delicious if you use them wisely.
Important to note here, that a Kane/Hare inspired ballet sequence performed by non-dancers might be magnificent and a disco scene with one red parcan might be glorious. This is more to say that you shouldn't pretend that your context and artistic qualities are different from what they are. Unique qualities will emerge from any circumstance. So just don't pretend you're in a different reality. It's easy to do.
4. It's important to recognise that the successes or failures of the thing that you make are often to do with things outside of your control. So hold on tight and let go easy. Work as hard as you can, then when it's done, reflect on your experience, own up to your mistakes, and try again. Plan your next show before you've finished this one.
5. I was told something when I first started to make work by my friend Jesse Meadows and it's proved so useful ever since. When trying to decide whether to do a creative job or project think about these 3 things –
Will it be fun? (creatively inspiring/interesting)
Will it push forward your career in some way?
Will it make you money?
If you've got two out of three, you'll probably have a good time. But If it's only one, you should think really carefully about doing it.
6.Try not to be an arsehole. There are too many about.
What are your hopes for the future of the theatre industry?
I hope theatre spaces become civic hubs for the communities in which they exist. I hope they do better at serving local communities as opposed to conforming to a bland, commercial culture.
I hope theatre becomes more inclusive. I hope that it feels like an art-form for everyone. I think to do that, we need to think carefully about what we value as good or important. I think theatre is seen as a monolithic culture with Shakespeare at the centre. I think that sucks.
I hope there's more public subsidy to make stuff in a range of ways for a range of different kinds of people. I hope that theatres and theatre makers don't have to argue their case in commercial and monetary terms all the damn time.
I hope theatres become a space to think about what makes us different as well as the same. To acknowledge and celebrate the difficult difference between us as opposed to pretending that this difference doesn't exist.
I really hope the industry is able to survive. I hope that it is able to radically adapt. I hope artists get paid. I hope that the most interesting emerging voices don't check out because it's just too tough.
I also hope that fully-emerged artists (whatever that means) are also able to stick around and have proper happy lives. I think the right kinds of elders (for want of a better word) are important and undervalued. In the artistic world we often toss them to the side in pursuit of the 'fresh young things'. That's not cool or useful. We're not very good at maintaining support and allowing people a creative and balanced life over many, many years.
I hope I get to hear different voices. I don't want to go back to how things were. I hope that we can do better. I hope space is made.
What makes you happy?
Cooking, feeding people, eating food, watching films, talking about films and plays, walking through Scotland, riding bikes down hills very fast, dancing, storytelling, writing, supporting people, hugging, working in groups, making playlists on Spotify, Haim, Frank Ocean, Gillian Welch, Kendrick Lamar, John Adams, The National, intense conversations, making paper hats.
Sometimes theatre makes me very, very happy indeed.