We are very proud of our North Wall Creative Associates: 10 individuals and companies with a special relationship to The North Wall, representing the best and brightest of UK Theatre.
Sam Potter is a writer and director with work at Trafalgar Studios, Hampstead Theatre, the RSC, National Theatre and Glyndebourne Opera. Her debut play Mucky Kid was nominated for an Off West End Award in 2013, leading to a place on the Channel 4 Playwright's Scheme.  Sam was previously Creative Associate at Headlong Theatre, Literary Manager at Out of Joint, and Papatango's Resident Playwright, supported by BBC Performing Arts.
Could you describe your relationship with The North Wall?
My relationship with The North Wall began in 2017 when Co-Directors Ria Parry and John Hoggarth appointed me Writer-In-Residence. Since then, I have been involved with an exciting variety of projects; I act as a writing mentor for the ArtsLab Catalyst residency and I've also done a number of different projects during the summer residency; my show Hanna toured to the North Wall in 2018 and last year they enabled me to spend two invaluable weeks in a studio exploring a very tech heavy and complex play that I've been working on for some time. They are tremendously supportive of my work, giving me the time and space I need to keep pushing myself and keep developing. I was made a Creative Associate in 2018 which is something I am very proud of. It's a truly inspirational theatre to be involved with.
What are the differences in how you approach your work as a writer and as a director?
To me, they are such vastly different jobs, I feel like I'm a different person when I'm doing the two things; writing is obviously a much more introverted activity, and directing is more social but the two things are also on a completely different timescale to one another. Directing is very in the moment, it's about sparking off other people and being spontaneous and creative in the room, it's very instant, whereas with writing, you will probably be working on the same idea by yourself for a minimum of six months, often several years and so the relationship you have with the work is a much more sustained, contemplative one.
As someone who is always working on several projects simultaneously, how do you manage moving between different plays and different mediums?
I think it's a big part of the craft of writing to be able to switch genres; there is a huge difference between TV and theatre and between books and theatre and it's a difference that has to happen at a cellular level. Some stories work really well in theatre and would be as flat as a pancake on TV and vice versa. I'm actually currently writing a TV project and a play at the same time and one of the things I'm enjoying the most is thinking about how best to tell a story in those two mediums.
What inspired you to write your play Hanna?
I read an article in a newspaper about a woman in France who discovered, when her daughter was 9 years old, that she wasn't actually her birth child. An alcoholic nurse had accidentally swapped her baby with another baby girl in the hospital and the only reason the family found out was because her husband instinctively realised the child wasn't his. I couldn't stop thinking about the story. The 'what if' of the situation really stuck in my brain. What would I do if something like that happened to me? How could anyone possibly know how to react if placed in such an impossible situation? I had been wanting to write something about becoming a parent and it felt like the ideal story through which to explore that subject.
What show or project has brought you joy over the last few years?
Last year the North Wall commissioned me to write a short monologue to be performed at the Alchymy Festival. I had an idea I'd been wanting to work on for a while for a play about sex addiction and I wrote the first draft very quickly. The whole experience was very creatively fulfilling; I worked with a very exciting young director, Jess Lazar and a fantastic actress, Georgie Fairbanks who I had been desperate to work with for years. We did a short version of the show at the festival and I was on such a role with it that I just kept writing and it's now become a full length piece. I really loved the experience of having an idea for a project, writing it quickly and seeing it happen, all in one connected stretch of time, that doesn't happen very often and it's just great when it does.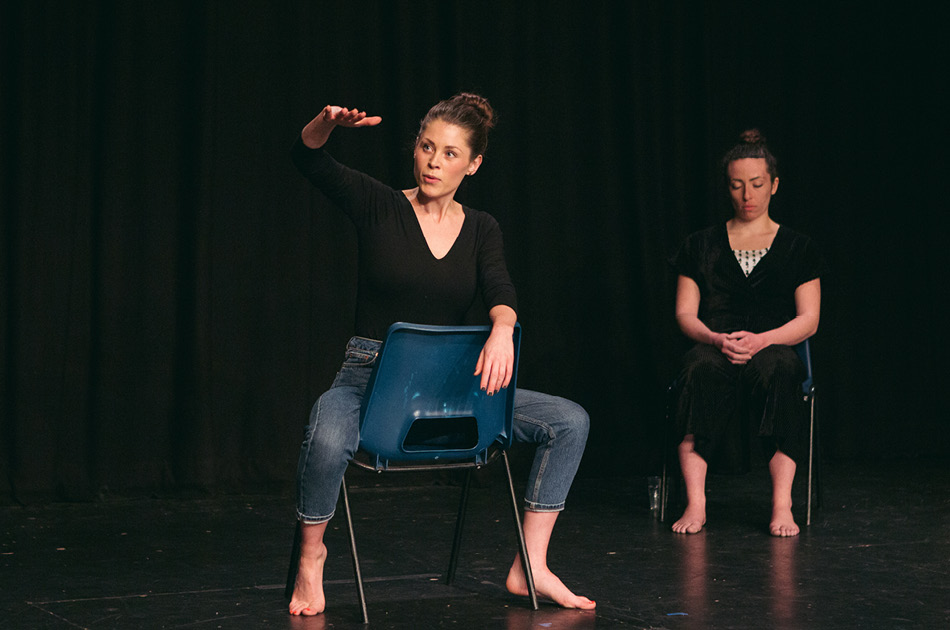 Which artists or pieces of work (any medium) are helping you through lockdown?
A few weeks into lockdown, Radio 3 broadcast the whole 8 hours of Max Richter's Sleep and my son and I decided that we would listen (and sleep) to it overnight and I feel like it's somehow crept into my psyche as a result. It's definitely my Lockdown theme tune! I've been reading Ali Smith's, state of the nation novels, Autumn, Spring and Winter. There is something so extraordinary about the four years she has accidentally ended up writing about; I can't wait to read this year's book, and I've also been catching up on some great TV shows that I missed first time around – Brexit:The Uncivil War and Succession and Lena Dunham's Girls. I guess one good thing about having a lot of time on your hands is that you can get up to speed with all the things you should have seen!
What advice would you give to early-career writers?
I think two things are really important when you are starting out as a writer. The first thing is to write a lot, there is truly nothing like practice to develop your craft. Keep writing, keep pushing yourself, try different techniques, try different styles, just keep doing it and getting better. The second thing is to find a way of protecting yourself. To write well, you have to have confidence in what you are doing, but a writing career necessarily comes with a lot of rejection and that rejection can often feel very personal. You have to find a way of putting your work into a sort of protective force field, so that you keep doing it, no matter what happens in the outside world.
What are your hopes for the future of the theatre industry?
I really hope that this very challenging year leads to positive change in our industry. I feel that the theatre has been talking a lot about change for a long time but not actually doing enough. I think one of the things that has been most apparent during lockdown is how incredibly vulnerable our workforce are; the most valuable asset you have in the theatre is people and most of those people are on freelance contracts with no security. It's complicated but I think somehow that has to change.
What makes you happy?
My family, my work, my garden and Keir Starmer.