We are very proud of our North Wall Creative Associates: 10 individuals and companies with a special relationship to The North Wall, representing the best and brightest of UK Theatre. 
Laura Keefe is a theatre director and Associate Director of Wise Children, with recent work including Romantics Anonymous and Malory Towers. She has made work with Shakespeare's Globe, Watermill Theatre, Oval House and Boundless Theatre. Her production of My Beautiful Black Dog with musician Brigitte Aphrodite toured to the Bush Theatre, Roundhouse and Edinburgh Festival before performing at the Southbank Centre for the Women of the World festival.
Can you tell us about your relationship with The North Wall?
The North Wall's Co-Directors Ria Parry and John Hoggarth are two of my oldest creative collaborators and friends. I first met Ria at the Young Vic in London. I assisted her on a project she was directing with a group of young refugees. I then went on to assist her on her production of Fen at the Finborough Theatre in association with the National Theatre. I was associate director on Mad About the Boy by fellow Creative Associate Gbolahan Obisesan that was produced by Ria and John's production company Iron Shoes. I was an associate artist for Iron Shoes who originally produced my show My Beautiful Black Dog that later played at The North Wall. John was the sound designer and dramaturg on the show. Without their support the show really never would have happened, and I am continually grateful for the support they show me as an artist and a friend. I am also (more importantly) godmother to their youngest daughter, Maia.
As Associate Director for Wise Children, what is a day like in the rehearsal room?
A lot of fun!
We always start our day with a ball game – normally a version of keepie uppie or foursquare. The actors will then do a physical warm-up with our choreographer and a vocal warm up with our musical director. I normally do the physical then sneak out of the vocal! Our shows are rooted in music and movement and we've been incredibly lucky to work with some insanely talented performers which means it is very important we dedicate time in the day for them to warm up properly so they are show-fit and looking after their precious instruments.
In the first few weeks of rehearsals we do a lot of learning. Emma Rice (Artistic Director of Wise Children) calls it front-loading. We give the performers as much information as possible so when we get towards the end of rehearsals and into the theatre, the show is really in their bodies and we can fine-tune it.
It is kind of incredible the amount of information they can retain. They often learn a lot of songs (sometimes in multiple languages). The harmonies tend to be very complex and we often employ actor-musicians so they may also have to learn various instruments to play at the same time. In addition the shows are packed with choreography and movement not to mention the actual words and sometimes a bit of aerial work gets thrown into the mix!
The morning tends to be for learning. In the afternoon we will again play a game and then start to piece the elements of the show together. The rehearsal room is a lot of fun and there is a lot of laughter on a daily basis. But we get a lot done. The last few shows we've rehearsed have been remounts of existing shows so we have rehearsed them in a very short amount of time; even though they've pretty much had entirely new casts. It means we work hard and quickly. We try not to work evenings and weekends. The downtime is as important as the rehearsal time for the performers to process when we are working them so hard.
The work is grounded in play and that is why we always start with a game.
You've worked on Shakespeare plays at the Globe and NT as well as directing lots of new writing. What's the difference between your approach to classical texts and contemporary plays?
In many respects the approach is the same. If I am working with a script then that is my starting point. I mine the text for as much information as possible and then fill in the gaps. The text informs all my decisions.
There are of course some differences. With a modern text, particularly a new play, it is very likely that the playwright is living and in your rehearsal room. This can be super helpful in terms of getting answers for questions you have and doing re-writes but it also may mean that as a director you're maybe more respectful of their work and less likely to make big/bold changes.
With a classic text it's tried and tested, you know it works. It has worked over and over again whereas with a new play you don't really know if it's going to work until you put it in front of an audience. This can mean that either you're worried about editing it too much until you see how an audience responds to it or you over-edit it.
With a text that has been staged multiple times you are always looking for a new way in. This may mean that you reimagine the piece in such a way to make it feel different to previous productions that it becomes so far removed from the actual story. But this is also where I feel the process is the same. Whether the play was written in the 1600's or 2000's, as the director I will still ask myself the same three questions – Why now? Why here? What am I trying to say?
If you are staging a Shakespeare play in 2020 on Zoom you must  ask yourself, why? Why do I need to do this now on this platform? Why does an audience need to see this now and what do I want them to take away from it?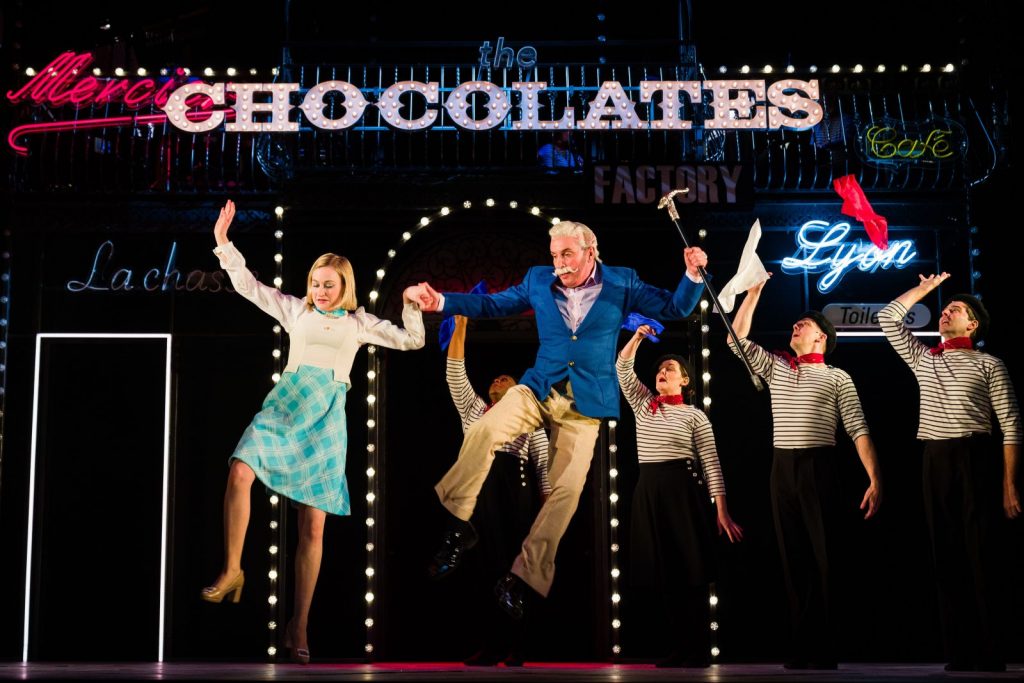 What show/project has brought you joy over the last few years?
I think I would have to say Romantics Anonymous, which is a show that was originally created at Shakespeare's Globe when Emma was artistic director there and then brought back this year by Wise Children. As it happens I am currently meant to be in South Carolina with the show seeing it into the Spoleto Festival in Charleston. Sadly the American leg of our tour, like so many other shows, was cancelled due to the Covid pandemic but I live in hope that it will have a future life.
The show is a proper musical! It is based on a lovely French- Belgium film called Les Emotifs Anonymes. The story is about a shy chocolate maker who is so paralysed by social anxiety that she is unable to make her chocolate, and a chocolate factory owner who is so terrified of life and all the things that could go wrong that his business is falling apart.
You've guessed it, they meet, fall in love and make chocolate together!
However, it isn't your standard Hollywood rom-com. The thing that truly holds them back from finding love and happiness is themselves and all the fears and anxieties we hold as human beings. I love the show because it is so simple and honest and speaks to everyone. I say this over and over again but it is genuinely my favorite show. I am the associate director on it but… I think even if I wasn't I'd still love it.
Emma adapted the screenplay so it has this lovely mix of continental coolness and British modesty and silliness. The music and lyrics are written by the incredible musical duo Christopher Dimond and Michael Kooman. These guys are the real deal. They live and breathe Broadway and totally understand the style and form. The music is absolutely stunning and the lyrics break my heart.
We also worked with musical legends Nigel Lilley (musical supervisor) and Simon Hale (orchestrator). Though I always include music and movement in my work this was the first proper musical I worked on and it was a huge learning curve. Not only have I learnt new roles like musical supervisor and orchestrator but also how important they are to making the show and how incredibly skilled they are.
Simon Hale is without doubt the best in the biz. He took Michael's compositions and turned them into beautiful sounding orchestrations using only four musicians. To give some context most musicals you see would have a band of at least 12.
Nigel Lilley (also the best in the biz) takes the vocal score and arranges the most beautiful harmonies. He has the most incredible way of talking to actors that is really clear and precise and it comes very much from the character. He can give the smallest note that makes the biggest change to how a phrase is sung.
I know people can be snobby about musicals (and pantomime, but don't get me started on that) but what I have learnt is that they require a huge amount of craft. The best part of it as a director is it takes a lot of experts to make a musical. You are part of a big team and that is so joyful.
What advice do you have for early career directors?
I mean what a time to be getting into theatre! Honestly, my advice right now would be do something else. Honestly. Working in theatre is hard enough as it is. It's very badly paid. There are a lot of people fighting for very few jobs and now, the industry is effectively non-existent.
Also the reality is as a freelance creative you are the least protected member of the theatre workforce. This is not ok and this pandemic has really highlighted a problem that has been going on for a very long time. You should not work for free. You should be entitled to sick pay, holiday pay and maternity pay. You should be paid for the hours you work. Our industry needs to change.
If you are still keen then you probably have the right temperament for it.
My advice would be to do and see as much as you can and be cheeky. Ask for help. People actually are kind and are willing to give their time for free (but don't you do that!).
I haven't been watching many performances online as I truly believe theatre is best experienced live and with others. However if you want to get inspired there are so many shows available online right now so do your homework. Watch as much as you can. Learn. Watch all different genres and watch all different art forms. It will help you identify the work you want to make and the work you don't. If you like someone's work make a note of it. Directors, designers, composers, lighting designers. Look up their work.
I didn't go to university or drama school. All my training has been on the job or for free. All theatres that receive public funding from the Arts Council, National Lottery, government, local councils or trusts have a responsibility to give something back to the community which normally comes in the shape of free workshops for adults and young people. This is probably one of the only areas of theatre output that is continuing in lockdown. Go on all the theatre websites. Start with theatres local to you and see what online resources they are running. It's a great way to learn and a great way to build up your creative network.
Please join Stage Directors UK. If you want to be a part of this industry then please respect yourselves and others and value your worth.
What are your hopes for the future of the theatre industry?
I desperately hope that we can live again. I hope that theatres will reopen. I hope that we don't lose too many before that time comes – particularly the theatres that are the only cultural venue in their community. Theatre has been around for a very long time. We are an important part of society. It is important for people to come together and have shared experiences.
I hope that when/if theatres re-open there is a serious shift in how people are employed. The Arts Council shouldn't have needed to bail out freelancers. Perhaps we shouldn't have freelancers at all. We are all human beings and should have the same employment rights as everyone else in this country. I don't know what the answer is but things need to change.
What artists/shows (any medium) are helping you through lockdown?
So I must confess I haven't really been watching any theatre online or particularly engaging in theatre artists work in this time. Sorry…
I have however used the time to watch a lot of film and tv and listen to a lot of audio books and podcast. I've never enjoyed reading but audio books on a long walk have been a real game changer for me.
Television
I watched Succession. Believe the hype. I think it's maybe the best thing ever made for TV. Normal people was obvs beautiful. I'm a big fan of Lenny Abrahamson who co-directed it. Check out his film What Richard Did if you haven't seen it. Alice Birch wrote for both Succession and Normal People. If you do not know her theatre work, get reading.
Films
I finally watched Frances Ha. I think it's my new favorite film. I didn't really know an awful lot about Greta Gertwig and Noah Baumbach until Little Women and Marriage Story so I've been going back over their work. It worries me that I really relate to the character in Frances Ha even though I am a good 10 years older than her!
I somehow got Disney Plus for free when I changed my phone contract to make it cheaper. I watched Coco and honestly it's just the most beautiful film.
Podcasts
I LOVED Dolly Parton's America. I love Dolly Parton anyway and am increasingly obsessed with Americana. It's a really interesting podcast and you do not have to love Dolly to listen to it. The episode about hillbillies is very interesting and particularly poignant given what's happening in America at the moment.
Music
Laura Marling's most recent album has been my lockdown soundtrack. I think her voice sounds incredible. Her lyrics and music have really matured and I guess it just got me at the right time in my life. The End of The Affair absolutely floored me the first time I heard it. I was walking along with my headphones on and realized tears were streaming down my face.
Books
So I've listened to a few Sally Rooney novels and also Sapiens so I think I'm really smart now and Period Power has changed my life. But I Never Said I Love You by Rhik Samadder has to be a stand out for me. My friend recommended it to me. It's a hard read (or listen if you're like me). He is a journalist and former actor so some of it is incredibly relatable and close to the bone and other aspects of it are deeply upsetting but I really would recommend it.
What makes you happy?
It's interesting because I think this has changed. At the moment the thing that makes me most happy is the great outdoors and the beauty of nature. I spent the first five weeks of lockdown in the Lake District and I'm near to the Peak District now. Honestly, long walks surrounded by beautiful nature have been my absolute savior and I've realised I need to keep it in my life. It makes me SO HAPPY.
Yoga. I've been doing it everyday and I'm almost able to do a headstand away from a wall, which feels like a big achievement.
Food. I've weirdly enjoyed cooking and eating healthy food, which is a big shift for me.
People. People make me happy.
Lakes.
Woods.
The Sun.
Sunsets.
Want to hear more about Laura's experience of directing with Wise Children? Listen to Wise Children's Tea and Biscuits podcast, in which Laura chats to Artistic Director Emma Rice.