Alex Berry recently graduated from the Bristol Old Vic Theatre Design MA course. She is an alumnus of The North Wall ArtsLab programme, and has since designed several shows for us, including 2012's Dead on her Feet and 2014's Fast Track . We asked her a few questions about her design for Song Of Riots:
Where did your initial inspiration for the original design come from?
For Song of Riots we began by thinking how to create an urban environment that could offset a fairy tale. We looked at pictures of cities during and then post-riots, and noticed that scaffolding was an important image in the restoration of cities after riots. Many types of dust were also a constant, the general debris inspired our own additions of dust, from the gold glitter of the fairy tale to the drugs used by a character. Projections were a main theme, and we spent a lot of time looking at wrestling, so the current floor and set up for the staging has a distinctly sports-arena vibe.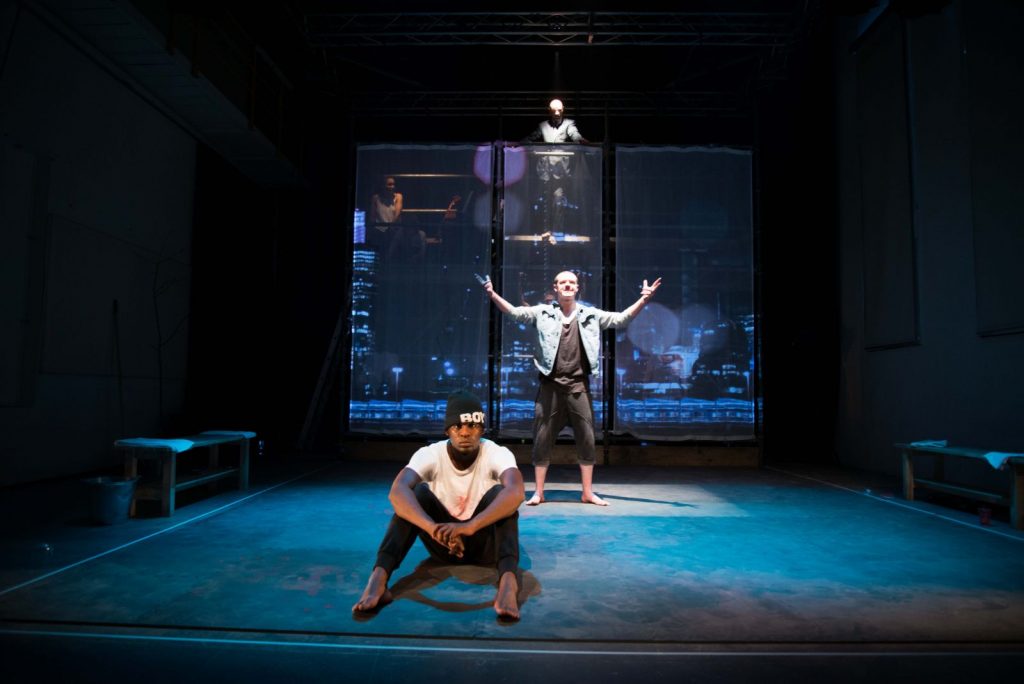 How does the director's vision of how the performance should look affect decisions, do you alter your design to work with their ideas?
For this performance our approach was very similar. Lucy wanted a clean open space for the actors to move around as the performance is very physical, and we have conversations to work out changes. The performance is a very physical piece so the scaffolding we have as part of the set can be used to climb and or swing on, everything has a practical use. The script constantly evolves during rehearsal so you have to be very flexible and responsive to this, adapting ideas as you go along according to the director's changes. We experimented with how to portray fairy tale with far more subtle elements so it blends with the more modern elements.
How has the set design changed over time since the rehearsal process started?
Initially, it was a three sided cube with floor projections. When rehearsal started, we realized the performance couldn't work in that configuration. There are many layers to the play that are all entwined, so the set needs to give us the ability to layer action and to have action happen simultaneously on stage and offset both fairy tale and reality. So the staging has undergone lots of adaptions to make it more practical."
Do you encounter situations where your ideas and the practicality of making those ideas a reality clash?
Yes there many times when I have ideas I want to indulge in and have to rein in instead. In the beginning of Song of Riots I wanted to completely cover the staging in dust. It would be very visually engaging, but the idea was impractical and unnecessary. When designing it's how best the set can serve the storyline when creating it that takes priority, and I design around that.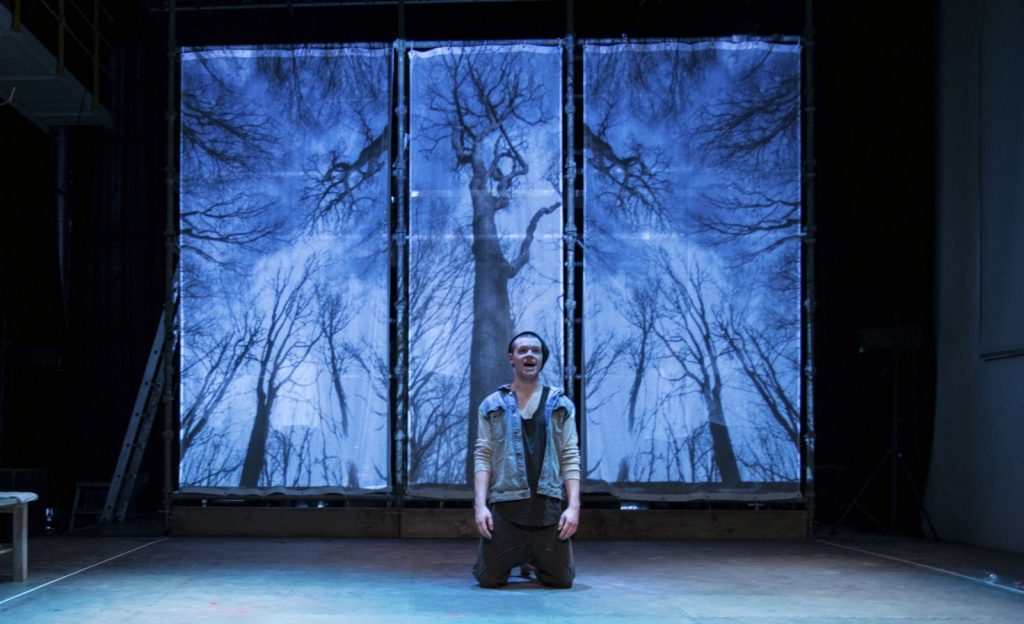 How do you begin the process of going from an idea into formulating it into actual staging?
Initial ideas come from the storyline and then using Pinterest for images, and creating mood boards. Then I tend to do a lot of sketches to see if my ideas work and then take the elements that I like from them. From that I then create a rough model, which becomes very helpful when talking about designs to the Director as it allows them to visually experience the sizing. It then helps when deciding if there is enough space for the actors and if we need more or less space. After creating the frame work I can begin looking at materials and working out what looks best.
Do the cast affect how you design a set?
It's more of a sense of the production as a whole as to how the set is designed. These actors are capable and physical which meant the staging reflected that and can be used actively, like swinging or jumping around it. The cast definitely affects costume, their actions and how they act during the process or even in rehearsal gives me ideas as to how I can portray their character more effectively.
Have there been any ideas you've had to let go of, despite how much you want to make them work?
I was very interested in using different types of urban fencing to help layer the stories. I also looked at things like tarmac and road markings, but again practicality was important because this was a travelling performance and the set had to be streamlined down. As I progressed with the design, everything became more and more minimized so that we could perform this at as many different venues as possible and the staging wouldn't interfere with the proportions of new stages."
Song of Riots took place at the North Wall from 14-18 April 2015