We've had a very busy few weeks here at the venue, with rehearsals for three different shows going on at once! So we're very lucky to have been joined by four work experience students from local schools, who have been supporting us behind the scenes and learning the ropes, finding out all about what it takes to run an arts centre.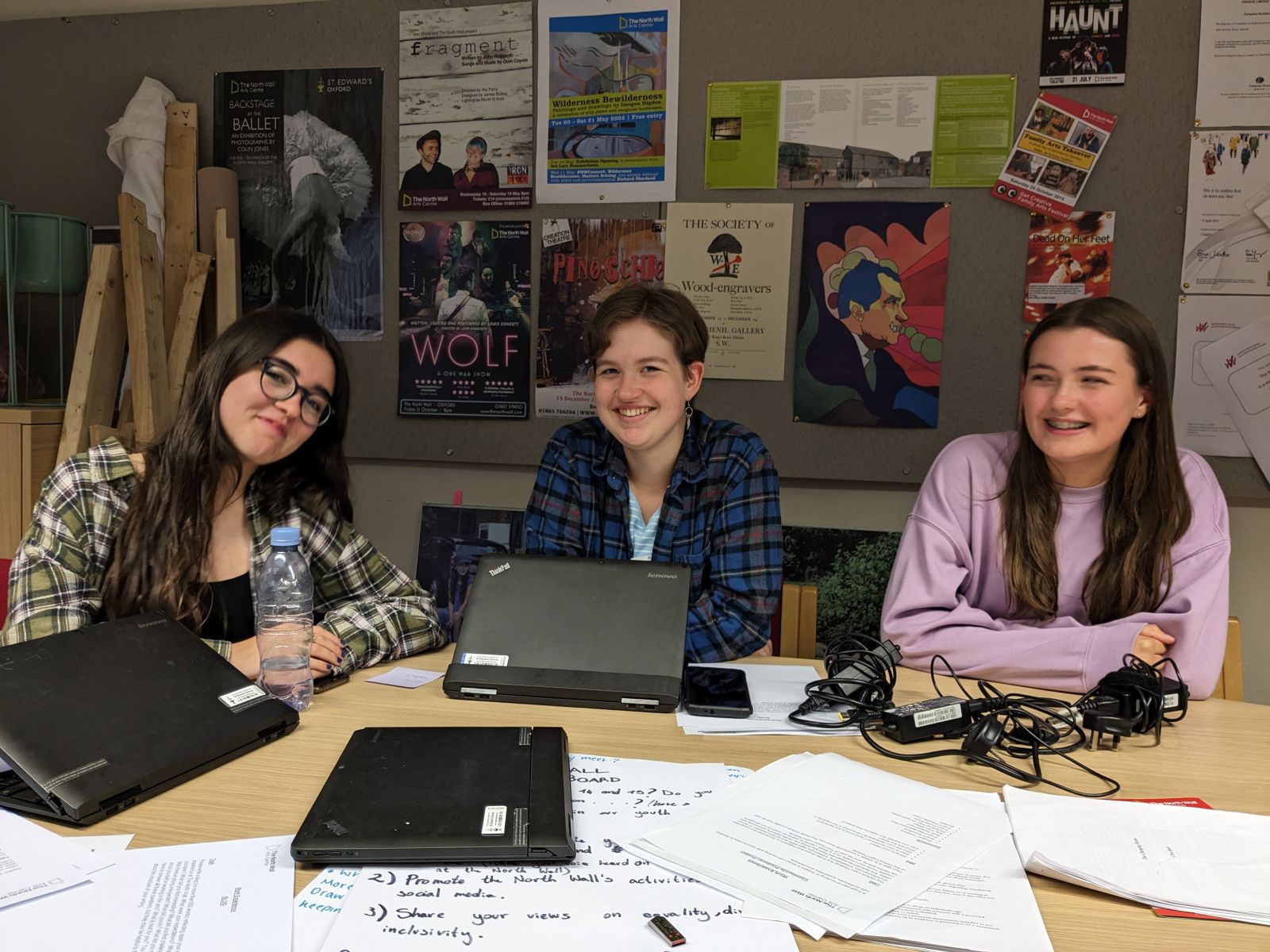 10 – 14 July 2023
Phoebe / Didcot Girls School
When I first applied for work experience at The North Wall, I was expecting it to be challenging but fun and it was exactly that. On the first day I had an introduction to the North Wall where I got told what it was about and what it does. I then got given a tour around the place and got showed where I would be working most of the time.
Over the next two days we had multiple department meetings where everyone at the North Wall told us about their jobs. I found this really interesting and useful as it opened my mind to all the possible of jobs in theatre. We also got told that through the week we would be working on these projects where you had to plan a workshop and an event for the Oxford Light Festival. I found this challenging and only managed to complete one but I enjoyed doing all the research and planning and presenting my ideas at the end. Other things I did throughout the week were sorting out props, listening into meetings and watching rehearsals.
My favourite day was Thursday as I got to work front of house. My first job was to change the posters in the toilets this wasn't the most glamorous but I still enjoyed it. I then went round and did the safety checks and stocked up on the food and drink. However, my favourite parts were greeting people and scanning their tickets. I was so lucky and got to watch the show that was on that night: Four Felons and a Funeral. I absolutely loved the show it was so funny and the cast are so talented. Work experience at the North Wall has taught me how much work goes into running a theatre and that I definitely want to pursue acting. This week has been so insightful and fun and I am so glad I did it. A massive thank you to Abie for organising it, you have made it such a great experience and thank you to all the team at The North Wall!
Clorice / Bartholomew School
My week at The North Wall has been a wonderful experience. I was expecting to focus on the shows that were performing at the theatre at the time however I also did a lot of behind the scenes work that I wasn't expecting but enjoyed. I was told about the different jobs at The North Wall and what they all did which helped me to learn about potential future careers in the theatre. I learnt about how they are all involved in running a theatre and the amount of work that goes into their productions and workshops which made me really appreciate the productions I've seen and the workshops I have done and will do in the future.
While at The North Wall I attended a meeting with others in the local community, discussing how to help the issue of loneliness in the elderly. I also did a 'participation project' where I planned a workshop. This was for year 6 students and aimed to help them transition into secondary school using theatre. This helped me to understand how theatre can be used to help others. One night I got to work front of house where I helped to prepare the theatre for when the guests arrived, learnt how to work at the bar, scanned people's tickets and welcomed them to the theatre.
I found working front of house really fun, at first I didn't think I would be able to talk to lots of people all at once but I soon found that it was easier than expected and that I could do it quite well. I found it really interesting to plan the workshop for year 6 students. Before this week I hadn't considered the work that goes into the workshops that The North Wall, and other drama companies, facilitate. The meeting with the local community was interesting and made me think about how drama can help a community and how I could use it to help others for a variety of issues like loneliness.
Overall, I really enjoyed my time at The North Wall, and I look forward to how I can use the skills I learnt here when working in the arts in the future.
Melissa / Bartholomew School
When I applied to do my work experience at the North Wall I didn't fully know what to expect. I can now happily say that this week I have learnt about EVERYTHING that goes into running an Art Centre; behind the scenes and on stage.
We started by having department meeting with each member of the staff, this was very inspiring and made me reflect on my career and future prospects. I was surprised by the number of roles and tasks that I had never thought about but which need to be to run an Art Centre.
We got assigned projects to work on during the week: I found the project about creating a workshop to be quite challenging as I had never really thought about workshops from that perspective but it was good to receive feedback and learn from it.
We were able to join a Community meeting, which had the aim of discussing a project to help the local elderly community.
One thing that I didn't expect was how much fun working front of house would be. I had the task of setting up the bar and then serving drinks just before the show. It was quite frantic and fast paced but so much fun! All the clients and staff were all so understanding and great fun to work with. After working front of house we got to watch the show Four Felons and a Funeral. The show was amazing and everyone had a lovely time.
We had the chance to see the rehearsals for Rosie & Hugh's Great Big Adventure, a musical for children and families. It surprised me to see how many people it takes to put up a show, I knew what roles existed in a Theatre production but it was very different actually seeing them work all together.
I currently study A-level Drama and theatre it is my biggest passion. I love performing but my dream would be directing. This whole experience has made my ideas about working in the arts so much more set than they were when I started. In the future I hope to study Drama in University and after I'd love to work in a place like the North Wall.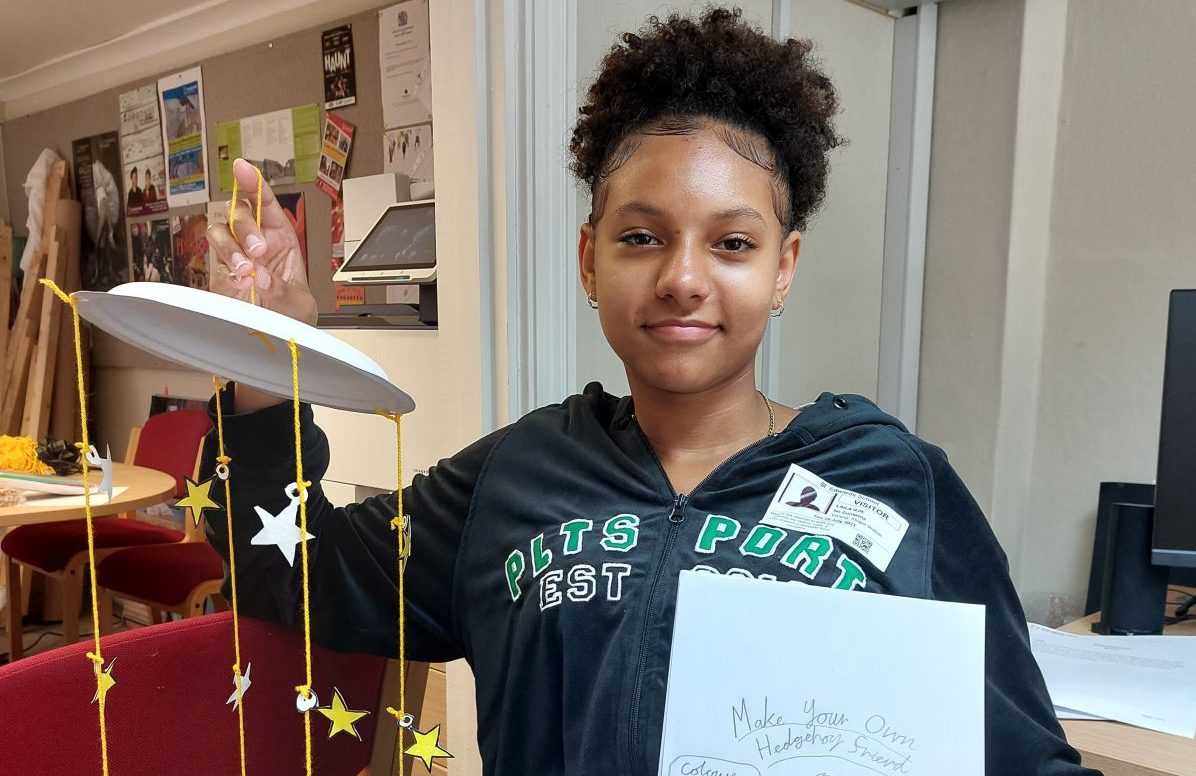 17 – 21 July 2023
Laila / Henry Box School
When I started my work experience at the North Wall, I was determined to make the most of my time as I go from Monday to Thursday, I wanted to learn what it is like spending several days at "work". Before I started, I set myself personal goals to do, for example one of them was to make sure that I wasn't late and I wasn't but instead I was most of the days too early. Most of the staff at the North Wall told me all their different and individual jobs and what it is like doing them on a day-to-day basis.  
On my first day, I was faced with one of my first things that I was going to find challenging. I was requested to read though some sheets of pepper that would later on walk me though the need-to-know stuff, for example First Aid. At the beginning I struggled to focus on all the small and complicated words but after a while I made it through. One thing I found challenging all though the week was going to the canteen for lunch, every time I went in the I felt worried about all the people there and I don't enjoy most foods so I wasn't sure what I would eat. The big crowds and hordes of people made me anxious, but I managed to get on will it with the help of Abie and Wendy, I felt a lot more comfortable with them around.  
I don't think anything for me was unexpected about the job, I found the task easy enough to get on without any trouble. For the task I was given three options and I had to pick two of them to complete, I chose to create an idea for the Oxford Light Festival and to create a stay and play activity for an upcoming show called Rosie and Hugh's Great Big Adventure. I tried to complete both of the tasks as best as I could, and I hope I did a good job and Abie liked both of my ideas. I realise as I work that the company's jobs for each person and overall is pretty hard but yet again it depends on what you work as to help the company, there were small and big jobs that did their bit to help the North Wall run as planned. 
I'm not quite sure what is next for me in life, but I am hoping that I will be able to work more with the North Wall any way I can in the future.  
Thank you to the North Wall for letting me experience what life is like in this community of people and for teaching me about all the jobs and what it's like to be in someone else's shoes for once.