In November, we welcomed two work experience pupils (Bradley & Bella) from Cheney School to The North Wall to give them a taste of what it's like working in an arts centre. Here's what they go up to during their week with us:
Bella
Before starting my work experience placement, my expectations were very much influenced by my extensive research into The North Wall and previous work experience blogs from their website (I was rather excited as you might have guessed). This research was part of the reason I chose to apply to the North Wall, with the enthusiastic blogs and exciting looking shows, it represented the type drama that excites and interests me, and definitely the kind of place I would like to do work experience.
The experience definitely lived up to my expectations and gave me a great insight into the arts and theatre industry. Meeting all the staff opened my eyes to the amount of work that goes into sustaining an arts centre and the variety of jobs and roles each employee has. Everyone was extremely friendly, welcoming and enthusiastic about their jobs, and I could feel a real sense of community between every staff member. Sitting in on meetings may have been the thing I was least looking forward to, expecting them to be rather dull, but I think it may have been one of the best bits! The way small ideas developed and changed through discussion was unlike anything I've ever witnessed, watching suggestions bounce off each other at a remarkable speed left me energised and in awe. And not only were the discussions deeply interesting to witness, I also could suggest ideas and opinions that were considered and taken in.
Throughout the week we helped out on workshops on art or drama at a variety of schools or community halls, from ages of 4 to 14, it was great to learn how to present ideas and techniques to a younger age group (who were also very adorable!). As well as getting an idea of what it is like leading workshops and sitting in on meetings, I also had the chance to do a project of organising an event for the Cutteslowe Light festival, considering event management and deadlines, marketing and budgeting, it really gave me an insight into the work that goes into community projects. I think the most challenging part of the week was learning to keep stamina for the whole day; as someone who is not used to working long hours and needing to keep constant attention, I found myself getting tired easily. But this week has really helped me have a better idea of what it is light working in the arts, and has been so interesting and fun. And a big thank you Abie, who was kind enough to supervise us through the week and was so kind and friendly to us.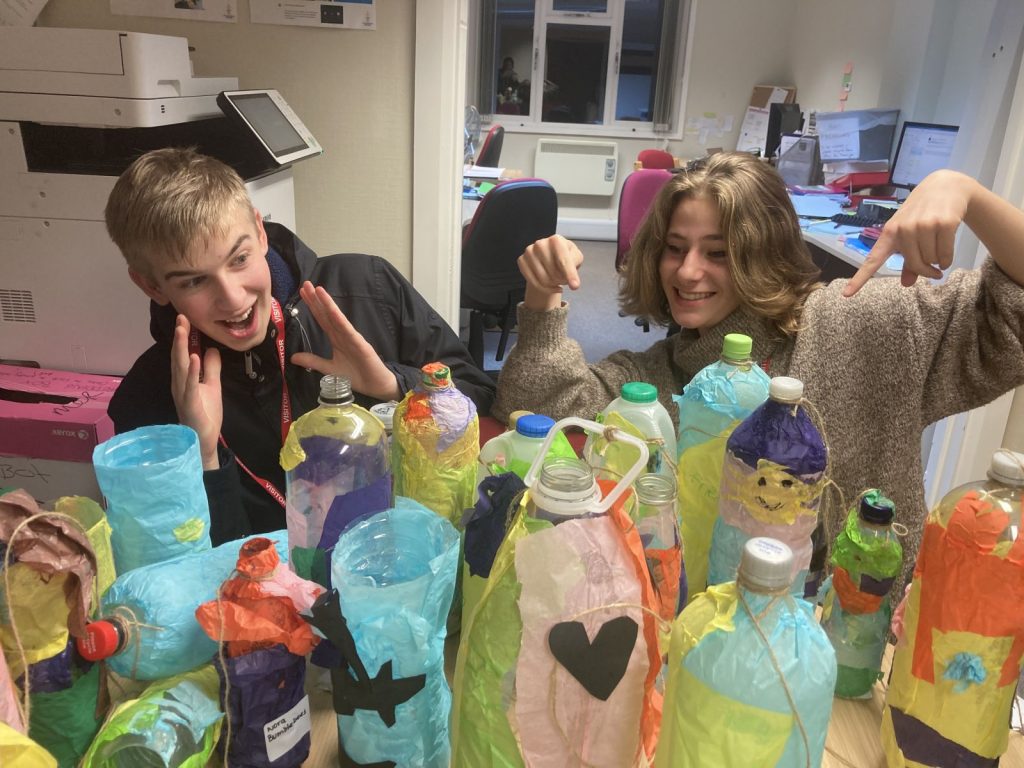 Bradley
During my time at the North Wall Arts Centre, I have helped with a lot of things such as: helping in drama workshops, having meetings with the staff, helping the children at Cutteslowe school make lanterns for the annual Light Festival and I also worked on my own project.
It was pretty much what I expected but there were somethings I was not expecting like how noisy the children were and the locations of places.
I learnt that managing young children is a lot of hard work and that a lot of planning goes on behind the scenes.
I found it quite interesting about where the office is located and I also thought going to the schools was quite interesting because it was a new location.
I didn't really find anything that challenging but if I had to pick one thing it would probably be handling the young children.
The next step for me will be to finish my GCSEs then get into Pegasus Theatre's Boom Satsuma drama course.
I have really enjoyed my time at the North Wall – it has been an amazing experience and I am glad I did it.