This Autumn, we have welcomed two work experience pupils (Louise & Saskia) to The North Wall to give them a taste of what it's like working in an arts centre. Here's what they go up to during their week with us:
Saskia 
Coming into my work experience placement at The North Wall, I expected to maybe learn a bit about how performances work, and to sit in on a few workshops – but it was so much more than that! I learned so much about how The North Wall runs, and was surprised by my own interest in the marketing and programming department. The most challenging part for me was the individual projects we did, especially organising an event as big as the Oxford Light Festival! It was really interesting and eye-opening to see how much work really goes into every aspect of this company; everything they do. Previously I was more on the fence about working in the arts in the future, something that sounded interesting by I probably wouldn't do. Now, I feel much more persuaded into looking more into this, and taking this industry more seriously as an option for the future.
Over the week, we did lots of really interesting things. I was most surprised with how much I enjoyed the department meetings, and learning about the roles of people like the Duty Manager and the General Manager. We also assisted in a few drama workshops, which I found really helpful and interesting to see. One of my favourite things we did was working as ushers during a show on the Thursday night. I enjoyed being able to help people get to their seats, and eventually watching the show as well! Everyone around me was really friendly and welcoming, which made the experience so much more fun.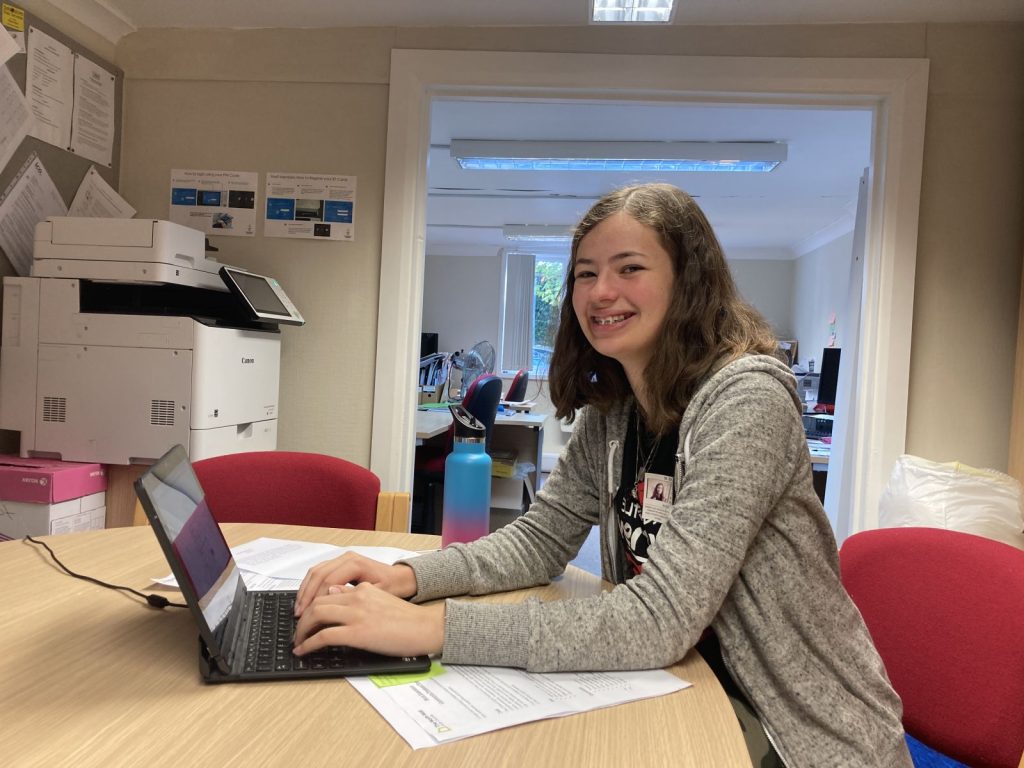 Louise
My time at The North Wall for work experience was both insightful and enjoyable. On the Monday we got briefed on health and safety which provided me with security and knowledge on what to do in case of an emergency. This set up work experience very well and helped me understand the precautions to take in the workplace. We were introduced to all the staff and had a tour of the building. Everyone was welcoming and the environment felt good from the moment we started. During work experience I learnt many things, like resilience and that things won't always go right the first time, but with perseverance and determination you can create something great.
We began our project work on Tuesday and I chose to curate a collection in the North Wall gallery. I immediately began researching and brainstorming my ideas until I finally settled on various pieces from Ukrainian artists. I chose to focus my project on Ukrainian artists to bring back the light and beauty of the country through its art. I found multiple painters and filmmakers from different ages and areas of Ukraine and picked out my favourite pieces that would bring the exhibition together. Whilst working on this project I learnt how to create a model well and how to use equipment likes Stanley knifes safely, which helped my progress tremendously during the week. I then created a leaflet explaining the aim of the exhibition and information about each artist so that the audience could search them up afterwards in case they were further interested. I liked doing this because it was fun to layout and write different things about the artists.
My favourite day was the Thursday, where we were front of house for the performance Hot in Here which I really enjoyed. We greeted people and helped people find their seats, and then we got to watch the show afterwards. This experience helped me understand customer service more and how to present yourself to the public.
Overall, I enjoyed creating my model gallery, but there were times during the week that I struggled with logistical terms, especially with the fiddly stairs I had to create out of cardboard, but I did end up figuring it out and creating a finished model gallery. My time at The North Wall helped me develop my understanding of physical and visual arts and broadened my knowledge of the arts industry, helping me gain information of what possibly could be next for me. I want to say thank you so much to The North Wall and to Abi Walton for this experience as I was taken care of very well and enjoyed my experience thoroughly.