Our current digital exhibition features Korky Paul's illustrations from all 22 of the best-selling Winnie and Wilbur books, written by Valerie Thomas and published by Oxford University Press. If your family are learning at home at the moment whilst schools are closed, why not have a go at these activities, based on the characters and images featured in the exhibition.
Winnie and Wilbur Scavenger Hunt
View the online exhibition and download a Winnie and Wilbur Scavenger Hunt to discover the detail in Korky's illustrations.
Competition Time
What is your favourite Winnie and Wilbur drawing? Pick your favourite from the online exhibition, then draw your own version of it. Share your masterpiece by sending a photo to contact@thenorthwall.com or on social media by tagging @TheNorthWall with the hashtag #KorkyAtHome for a chance to win an original drawing by Korky Paul.
Deadline: 23 January 2021
Winnie and Wilbur Stay at Home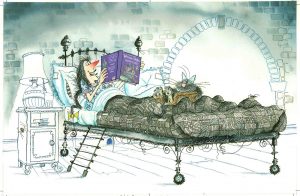 Published in 2020, this brand new adventure sees the iconic characters shown in a range of situations that will be immediately recognisable to families in lockdown; from trying to tackle home learning to joining in with the clap for our carers (with a twist of Winnie's magic of course). Click to download Winnie and Wilbur Stay at Home on the Oxford University Press home learning hub Oxford Owl.