Jenny Blyth was a curator at Saatchi Gallery 1990-2002 and ran a floating gallery for ten years thereafter, originating projects and mounting exhibitions largely in London, Manchester and Oxford. Jenny Blyth Fine Art (JBFA) curated 40 exhibitions at Art Jericho between 2010 and 2017, and opened Carey Blyth Gallery in September 2019. Here, she discusses her upcoming exhibition, Contemplation: Snow Into Water, which takes place at The North Wall from 29 September – 10 October.
CONTEMPLATION : SNOW INTO WATER is a celebration of the sheer beauty of nature and its liberating effect on the mind.  Lockdown has enforced a slowdown in the pace of life in all its noise and complexities, giving us a unique opportunity to re-engage with the voice of the natural world around us, and the transience that makes it so precious.
Chloe FREMANTLE (paintings) and Cassandra WALL (textiles), contemplate that beauty expressed through patterning.
Paring down and patterning creates great strength – American minimalist painters such as Frank Stella, Robert Ryman and Agnes Martin of the 1960s were formidable, creating a stillness and sense of transcendence through repetition and constrained palette.  Agnes Martin grew up on the vast plains of Western Canada. She considered herself an abstract expressionist, her beautifully quiet paintings expressing an inwardness experienced through nature.  With titles such as Dawn, Drift of Summer and Night Sea, her six foot square canvases were gridded in pencil and then painted with gesso in pared back pastel colours that caught the sound of the wind, the ripple of grasses, the breaking of dawn….  Martin described painting as :
"a world without objects, without interruption… or obstacle. It is to accept the necessity of … going into a field of vision as you would cross an empty beach to look at the ocean."
In the expression of the multiplicity and noise in patterning, there is ultimately silence and calm.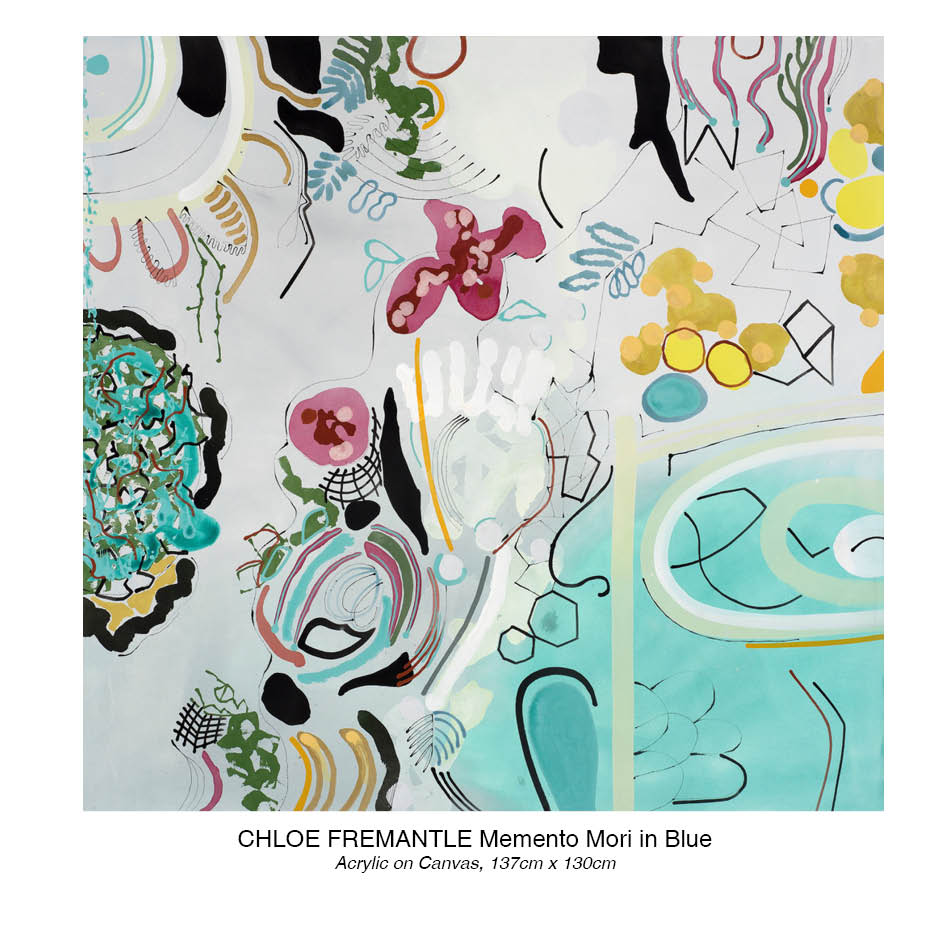 Chloe Fremantle's practice is rooted in figuration, in the pure essence and beauty of nature that manifests as abstraction, a dialectic of markmaking.  Paring back from the detail of her subject, she has created her own hieroglyphic language of symbols and shapes that reflect the world around her.
Her interpretation of the rhythms that reoccur in nature originated with leaves and petals, seeds and pods. Focussing in on the biology of her subject, she incorporated references to cellular structure – an inner, microcosmic world.  Looking out from within, she then embraced a sense of topography – of contouring, incorporating the lay of the land.
In recent years her work has marked a return to figuration in terms of subject, with urban and rural vistas infused with an alphabet that she has developed over years in her exploration of micro to macro.  Aesthetically the interplay of all these elements together transforms into a sublime celebration of unexpected colour and form, a 'jazz fusion', Memento Mori in Blue, that challenges and delights, inviting us as viewers to explore the artist's kaleidoscope of the natural world.  In Birch Copse abstraction morphs to figuration : one reads birch trees with the seasonal peeling of its silver skin where another perceives a street café scene.  Essentially as one's eye unravels the patterns and marks within Fremantle's compositions, so the mind is free to explore and interpret.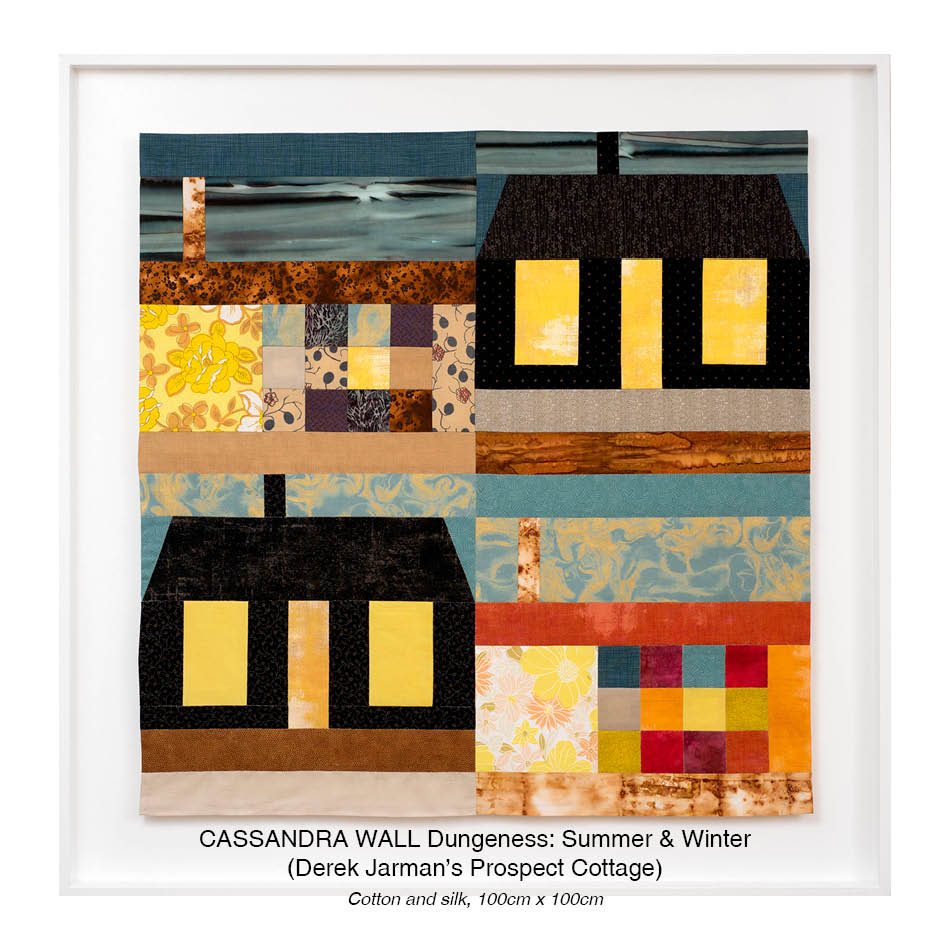 Quilting brings to mind the Amish Culture where strength is enhanced through simplicity.  The repetition in patterning, of colour and shape, and the juxtapositions inform that simplicity and strength.
Wall's quilts, each created over months, present as contemporary textile paintings floating in tray frames, unglazed.  Her methodology is hand-stitched quilting, but her language is of tessellation and colourfield abstraction towards a state of meditation, delighting in the journey of colour and shape that nature presents dancing towards that end.  All is beautifully expressed as  Snow Into Water.
Cassandra Wall has been working with textiles since childhood. All her compositions such as Heather Hills are initiated sur le motif capturing the spirit of the landscape – the crests of purple heather-clad hills with backdrafts of golden green mosses.  Initially, she creates collages in torn papers, precursors and hints of the patterns and tessellations to come.  Transposing her 'sketches' to cloth, involves sourcing vintage and hand-coloured fabrics that she tones with tea, matching her swatches against her chosen subjects en plein air.  Once her patterning is decided upon, the tessellation begins and her textile paintings are stitched: Net Sheds – Hastings; Derek Jarman's Prospect Cottage at the beach in Dungeness; Heather Hills in the Peake District and Sunset Islands (Dodecanese); Exquisite are her Autumn Floor with leaves underfoot, Spring in fresh pinks and primrose yellows, and the golden hum of hexangonal Honeycomb.