We are very proud of our North Wall Creative Associates: 10 individuals and companies with a special relationship to The North Wall, representing the best and brightest of UK Theatre.
Ad Infinitum collaborate to tell stories, play and disrupt. They work with artists, activists and communities to create transformative theatre, revolutionise audiences and change the world. The company has been challenging the status quo of the cultural landscape since 2007, daring it to embrace difference by demonstrating that collaborative ways of working fundamentally enable a more representative theatre culture to exist. Based in Bristol, they have toured extensively both nationally and internationally with work including Translunar Paradise, Light, No Kids and Extraordinary Wall [of Silence].
We spoke to Co-Artistic Director George Mann about what makes an Ad Infinitum show, and the company's first short film, commissioned by HOME.
Could you describe your relationship with The North Wall?
We have been supported by and collaborating with The North Wall since… wow, I can't even remember – for AGES! Perhaps as far back as 2009? From the moment we entered the building the team have been so kind, generous and supportive – everyone from Clive helping with all things technical, Amy and Sherrell working hard behind the scenes, Lucy who first took a chance on programming our work and went on to pastures new, and now the wonderful Ria and John who are leading the venue in all sorts of new and exciting ventures – it's not just a building, it's a really lovely team of people committed to what they do. In 2018 we were asked to be one of their creative associates – so our relationship continues to grow and strengthen, and for us that means a lot.
Is there a common thread running through Ad Infinitum's work?
Interesting you should ask that… we've been taking some time to look forward and back, understand where we've been, and where we're going next. While our shows are all very different, they're also connected in their interrogation of social and political themes through storytelling, bold theatrical styles that best serve the narrative, and a visceral physical experience. We're continually exploring how theatre can be a force for social change, how a live artistic encounter can provoke and awaken, and how artists and audiences can make a real difference.
What's a day in the Ad Infinitum rehearsal room like?
Playful. Exhausting. Sometimes loads of laughter, sometimes exasperation. Passionate people striving and working hard, pouring heart, soul and sweat into something they believe in. It's getting stuck but not giving up. Discovering challenges that need a solution – and then tripping upon that solution in an unexpected way. It's full of imagination, improvisation, repetition of virtuoso routines until we absolutely nail it. Coffee – so much coffee (speaking for myself there). More laughter. Sometimes tears. There's chaos in the collaborative spirit – everyone has a voice in our rehearsal room. Post-lunch slumps in energy. There's discipline, hope, we're all learning, we're all f*#king up – I mean we literally ask everyone to f*#k up: it's the only way to make theatre. Sometimes I have a funny half-hour where I can't stop laughing. It's not easy, sometimes I want to bang my head against a brick wall. To tell each other when something doesn't work – but not to take it personally: that's the work, we need to figure it out. To remember you won't have all the answers. There's mutual respect, honesty, and a freedom to be yourself, whatever that means.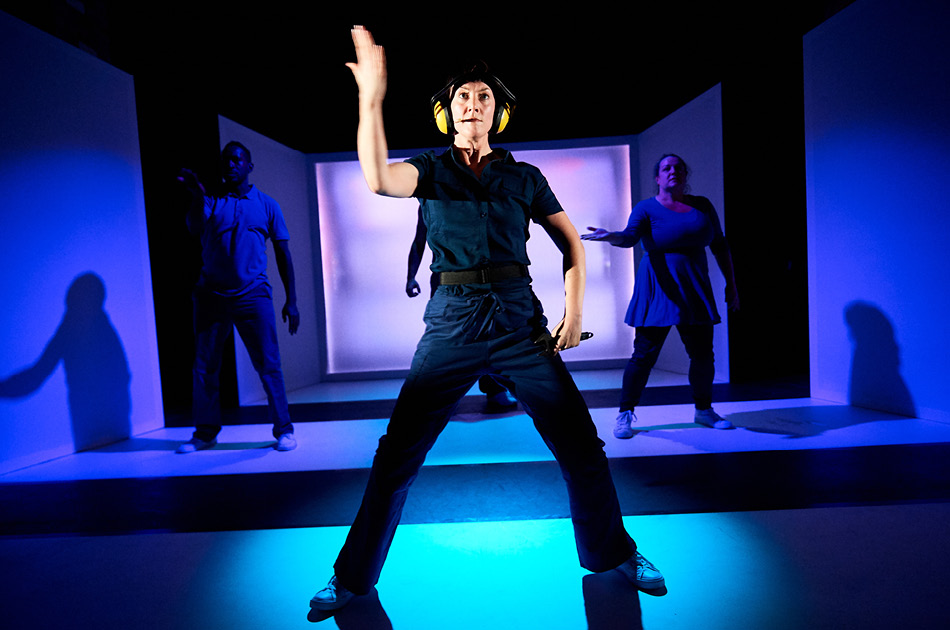 What was the process like with the creation of
Extraordinary Wall [of Silence]
?
That's a BIG question!
It was roughly 5 years in the making. It was complex, we all learnt so much. We were working across languages, cultures, trying to figure out how best to do that, while trying to devise a new piece of theatre together that worked for both Deaf and hearing audiences. We had to find ways to create, communicate, and collaborate. It was a very politically charged process – the politics of deafness is complicated. We were trying to unearth a largely unknown Deaf History – unknown because the Oralist movement, lead by Alexander Graham Bell, tried to abolish and wipe out deafness in 1880 by banning sign language in deaf education, getting rid of Deaf teachers, campaigning for sterilisation and forcing deaf children to speak, lip read and communicate using English, instead of teaching using sign language. Oralism infiltrated education systems around the world for over 100 years and resulted in untold damage to deaf people, their communities, it decimated sign languages and Deaf culture, and almost eradicated Deaf history. With help from world-renowned Deaf academic Dr. Paddy Ladd, we learnt how sign languages developed around the world, hidden Deaf histories of success and innovation, role models that Oralism tried to erase and who need to be uncovered and celebrated. And thanks to the kindness and generosity of many Deaf contributors, we were able to learn about many peoples' lived experiences of surviving and fighting an Oralist-dominated hearing world, and were permitted to tell those stories integrated with the story of deaf history.
It was not an easy process, but we all felt it was important, and we were all proud of what we managed to achieve in the end. We're keen to continue touring the production when theatres reopen and that becomes possible once more – it's a really important piece for our team to share. Watch this space!
Can you tell us about your project with HOME
,
A Small Gathering
?
A Small Gathering was a commission from HOME to create a response to Lockdown. It resulted in our first ever film as a company. We describe it as a triptych of surreal shorts. It explores being stuck in endless Lockdown isolation, and there are three characters, in three different films, who all find different ways of managing as the days tick over and thoughts turn into visions of madness… I think that also kind of describes what we went through making it!! It was such a difficult, challenging time, and we all had our wobbles, felt like we were losing it at points, but essentially, it was also somehow really great to be in touch and have something to focus on in those first 5-6 weeks of pandemic… it helped me to be working on something absurd and comic. You can watch A Small Gathering online until December 2020.
What show or project has brought you joy over the last few years?
I think I always experience joy when I make theatre…as well as pain, panic, laughter, tears, exhilaration, gloom, happiness, companionship, fear, hope, so challenged…and a whole lot more. 
Which artists or pieces of work (any medium) helped you through lockdown?
I found it very hard to watch recorded theatre shows to be honest…I think because it reminded me that I wasn't there, present, watching it live and I remember vividly what that's like. I tried to watch a number of theatre pieces but could never manage. So I found myself watching TV series, films and reading books. I also did a bit of knitting. I'm watching a series called Unorthodox at the moment, which is brilliant. I read The Forty Rules of Love by Elif Shafak (beautiful poetic love story), Why I'm No Longer Talking to White People About Race by ReniEddo-Lodge (phenomenally important read) and The Perseverance by Raymond Antrobus (a stunning anthology of poetry).
What advice would you give to early-career theatre-makers?
Ask for help. Reach out, meet, and talk with your peers. Collaborate and share skills, knowledge, information. There are so many creative people out there who were once starting out, they remember what it's like, and in my experience they're all very generous and happy to help if you ask.
What are your hopes for the future of the theatre industry?
My hopes are admittedly idealistic. But f*#k it: I hope that hierarchies are dismantled. That theatre and it's canon are decolonised. That theatres take time to understand how they can be an integral part of their communities, where everyone feels welcome but also a sense of ownership about their local theatre. That structural racism in our industry is acknowledged, and torn down so we can remake the theatre industry and make sure it really is for everyone. That the industry is valued not in financial terms – how much money it brings to the economy, everyone a commodity, commercial models and viable business plans etc – but valued because of its contribution to the health, well being, culture and growth of society and as such is properly funded to continue doing it's vital work. And I hope that theatre is once again valued in education and put back into syllabuses and in schools and colleges and universities all over the country where it can do so much to fuel imaginations, liberate, create empathy, help young people understand the human condition beyond their own social bubbles, build confidence, and grow creative free-thinking minds.
What makes you happy?
Nature.