We are very proud of our North Wall Creative Associates: 10 individuals and companies with a special relationship to The North Wall, representing the best and brightest of UK Theatre.
Dom Coyote is an award-winning composer, singer and theatre-maker, creating work with the National Theatre, RSC, Cirque Bijou and Extraordinary Bodies. He is an Associate Artist of internationally acclaimed ensemble Kneehigh Theatre, recently performing in Ubu Karaoke and The Tin Drum. Dom is Artistic Director of Bristol based Coyote Collective, exploring the boundaries between music and theatre, touring his solo shows nationwide.
Could you describe your relationship to The North Wall?
My relationship with The North Wall began in 2014, when the (now) Co-Directors Ria Parry and John Hoggarth asked me to be musical director for their first summer training programme. I had an incredible three weeks creating new music and theatre with an inspiring group of young theatre makers. We began to develop a new piece of gig-theatre, called Fragment. The North Wall continued to develop this project into a full piece over the following few years. Since then, I have toured my own work to the venue and kept close contact with Ria and John, who are so supportive of the work I make. It feels like everyone at The North Wall really cares about the artistic work that happens there and the well–being of the artists that make it.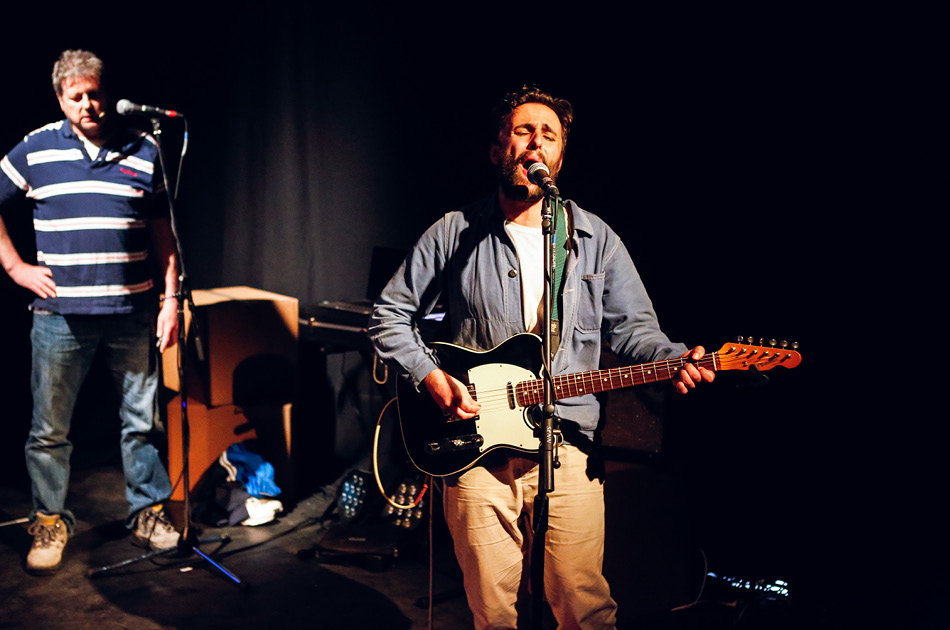 What are the differences in your approach as a composer / musical director and as a performer?
For me these lines are really blurred. I think for a long time, acting scared me. I joined the National Youth Theatre when I was fifteen. I remember feeling like everyone there was so much older and more experienced. I got a real block, but at the same time I was finding my way with music, playing in bands and writing songs. It took until my late twenties to start gaining confidence as an actor. Music always came more easily for me, but they both come from the same place, and that is very clear to me now.
With both composition and performing (or any other artistic expression), I have to find some sense of magic to get out of my head and into the artistic sphere. I have to feel present and inspired, like nothing else matters and my heart is bursting with the need to create. We are creative beings. When humans first started to create art, there were no boundaries or categories, there was just this need to express the depth and complexity of consciousness. That's really what I believe, that categories of art are created by society, that really we are all painters, singers, composers, dancers, actors. It's all just expression. And it is vital.
As an
A
ssociate
A
rtist with Kneehigh, what is a day like in the rehearsal room?
It's unlike any other rehearsal room I've been in. Kneehigh shows always begin their development at the Kneehigh Barns, on the cliffs of Gorran Haven in Cornwall. We all stay in cottages in the village and then walk up the massive hill to the barns every morning. We meet in the kitchen, have a cup of tea and a lot of toast and then go downstairs into the main barn to start playing with ideas, making each other laugh, and dressing up in bizarre costumes after raiding the costumes barn. There's always a sense of community and anarchy in Kneehigh, and if the weather's good we'll run down to Vault beach at the end of the day and jump in the sea.
What
'
s your starting point when you
'
re creating solo work?
I'm definitely best in collaboration. I need people to bounce off and be inspired by. So whether I'm making a solo piece or leading on a joint creative project, I always ask some brilliant people to get together and start talking and playing. I like being a piece in a big jigsaw of creative people.
But when I'm just in my own personal space and I start getting inspired to make something new, this is usually the journey….
I have a kernel of an idea that starts to take route, or a new musical world I'm excited to delve into. Once that happens, I know I have to make something. I get excited by a situation and a character's potential journey and I start hearing the music.
Once an idea begins to take hold, I start writing songs in my head, dreaming up melodies, recording fragments of ideas. Then all of a sudden I see the entire world world through the lens of the work I'm making. Everything becomes about time travel, or loneliness, or the atomic bomb.
But very quickly I need other people's ideas and creativity to bounce off, to make it more than just a fantasy rattling around in my head. There is so much power and joy in collaboration.
What was your first experience with circus company Extraordinary Bodies?
I was the joint musical director for Extraordinary Bodies' first show, Weighting. It was a big outdoor integrated circus piece with disabled and non disabled performers and musicians. I co-wrote the music with friend Ted Barnes – it had a lot songs in it, with lyrics written by playwright Hattie Naylor. I also performed in the show, singing and playing electric guitar.
What show or project has brought you joy over the last few years?
Just before lockdown I started work on a new adaptation of Pinnochio with Stuff and Nonsense theatre company. The development was child–centric, meaning we worked with primary school children in developing ideas and really created a safe space where they could let their imagination run, and playfulness could lead the direction of the workshops. We worked in a few different schools and some of the children had learning disabilities and Autism spectrum conditions. All of the children were such talented creators. They imagined new characters, new worlds, new story arcs that rival some of the best writers and dramaturgs I've worked with. Director Nicci Mcretton and I were bowled over. We both love anarchy in the creative process and we allowed just enough creative chaos (maybe too much sometimes!) that the rooms felt charged with ideas and life and play. I want all rehearsal rooms to feel like that.
Which artists or pieces of work (any medium) are helping you through lockdown?
I read a lot. Reading inspires me more than any other art form I think. My partner Bettrys Jones and I have been writing a novel for the last two years. It's been one of the positives of this strange pause in our industry. We have had the space to finish the first draft and get stuck into the second draft.
I've always been interested in utopian and dystopian fiction and right now I'm obsessed with the work of N.K. Jemisin. She creates extraordinary imagined worlds, definitely exploring dystopian/utopian themes, but in the most imaginative way. 'The Broken Earth Trilogy' is about a world racked by geological apocalyptic events and an oppressed people with extraordinary powers to dive into the earth with their minds and calm it. I want everyone to read this book, it speaks to our world so clearly through an imagined one.
What advice would you give to early-career artists?
I heard Charlie Brooker on the radio a few months ago. He gave this amazing piece of advice which I found really helpful and wish I had been given when I was just starting out. It was really simple. Start with something small. Something you can realistically create and complete. Learn from it and keep growing. Project by project. Idea by idea. I found this helpful because I personally can go so big with an ambition for something that it can become unattainable. It's like I have created a self destructive element into the project and disguised it as something else. I find that if I just keep making things and completing them and working out a strategy and seeing it through to the end, it gives me strength and self belief, and then I can move up to the next rung.
Two other little bits of advice that people might find helpful:
The thing that you think you are supposed to be might not be the thing that makes you fulfilled. Always follow the route that makes your heart sing and want to create.
Keep creating. We are human animals. We need to sing, paint, dance, perform, conjure, play. Forget the idea of career, follow the idea of being an artistic being and bring new beautiful things into the world.
What are your hopes for the future of the theatre industry?
I hope it becomes decentralised from London. I hate that people have to spend so much money in a city that is so hard to live in. I hate the perceived buzz that it creates, the star studded press nights where people need to be seen to make them feel like they are worth something. We are all worth something. I hate this idea of celebrity and the next big thing and personal genius. I think that will change. People just need to connect and create. I hope that alternative, unusual work becomes better funded and is given more respect from the industry at large. I hope we find a way to reach more people with more stories, stories that are written by diverse voices from every corner of society. And I want to hear more original music in big shows, a cross pollination of art forms and genres that speak to everyone, that perform in found spaces and back yards and village halls and clifftops, not the West End to rave reviews and people that can afford the ticket price.
What makes you happy?
Spending time with people I love, having the space to be creative and eating yogurt.