What do you do if you're a landscape artist who can't get out into the landscape? Elaine Kazimierczuk normally spends her summers visiting stunning meadows, taking photos to take back to her studio and turning them into works of art. She was due to open Fresh Work, an exhibition of her colourful abstract landscapes, at The North Wall this month as part of Oxfordshire Art Weeks. Instead, Elaine has taken her exhibition online, and has launched #paintmymeadow, a campaign encouraging people to send her photographs of the countryside, so that she can continue to paint whilst self-isolating at home. Here, we chat to Elaine about her work and what inspires her as an artist.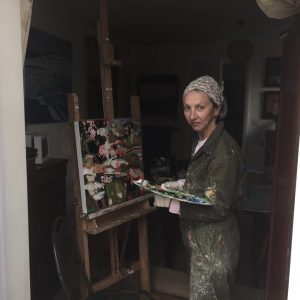 Tell us a little bit about the exhibition Fresh Work – what would a visitor to the gallery have seen and experienced had the exhibition gone ahead?
I came up with the title Fresh Work because the inspiration for pretty well all my work is the natural environment, so that's the theme running through this collection. I wanted to suggest the vigour, the vibrancy and the sheer energy of nature – new growth – green shoots, but depicted from a fresh and original perspective. I made a lot of new work – including a large 7 metre long panoramic polyptych (there's four separate panels). This work was made especially for the lovely light and airy gallery space at The North Wall. It's an interpretation of a planting at the Oxford Botanic Gardens – it's the oldest national botanic garden but the planting that I keep returning to again and again, called the Merton Beds, is one of their most recent projects. Designed by James Hitchmough, who designed the plantings for the Olympic village, the Merton beds are planted with sustainability in mind, so they appeal to my conservation concerns.
As well as the Oxford Botanic Gardens, what other local outdoor spaces inspire you?
Summer wildflower hotspots – Iffley Meadows, Bishop's  Sutton, Minster Lovell and Burford. The natural world is full of delights – I love all wildlife, but for painting, I'm drawn to plants. Wildflower meadows, hedgerows, cottage gardens – painting is my response to what a friend of mine called the 'assemblage of wild beauty' – I think he nailed it with that description. I'm keen to encourage people to cherish and respect the natural world, particularly the natural history of their immediate locality.
I'm a supporter of the charity Plantlife, a British conservation charity working nationally and internationally to save threatened wild flowers, plants and fungi. Plantlife work with landowners, businesses, conservation organisations, community groups and governments to save our rarest flora and also ensure familiar flowers and plants continue to thrive.
You describe yourself as an "outsider artist" – you're self-taught. When did you first start painting, and how has your work developed?
I drew incessantly as a child and desperately wanted to go to art school, but neither my parents nor my school supported this. It was something you might do if you couldn't do the academic stuff, but as I apparently could, I was shunted off to do sciences, ended up teaching for a while and spent some time teaching environmental science.
Nowadays, I devote myself full-time to painting. I was awarded the Mary Moser Prize in 2018 – an award for a person taking up art professionally later in life – which describes me exactly. Taking part in Oxfordshire Art Weeks has been fantastic for me and definitely helped launch my 'late blossoming career'. It's a great event for all who participate from amateur artists and makers to well-recognised and highly-regarded professional artists. The Brian Sinfield Gallery in Burford gave me a solo show last year as a result of seeing my work in the Art Weeks catalogue – the gallery owner came to see my work and offered me a show there and then!
How would you describe the style of your work?
My style is probably best described as idiosyncratic; I use paint promiscuously because nobody taught me the rules; the painterly marks I make range between loose and free to highly-stylised – all on the same canvas. I use bright (sometimes fluorescent) colours. I look for patterns and represent these with generic shapes and symbolic gestural marks. When you look at one of my paintings I want you think you might have been there – and well you might, because they are all based on real places, but I personalise them, because painting is personal. I want you to lose yourself in them.
How has the lockdown changed how you approach your work?
My summers usually involve getting out into wild places, being inspired by the chaotic  array of vegetation – the wild beauty, deep shadows and the play of light. But like everyone else I'm having to adapt how I work, to accommodate the new rules on social distancing and essential travel. Knowing I can't get out to see my favourite meadows and flowers is frustrating, so I've started a campaign on social media, #paintmymeadow. I thought many people live near beautiful meadows, which perhaps they visit on their daily exercise, and I hoped they might be kind enough to share some photos of them with me. I also hope others will be inspired to paint their own meadows this summer, while so many people are trying new things, and share those images on social media, too.
Elaine Kazimierczuk's exhibition at The North Wall has been rescheduled to May 2021. Until then, view the online exhibition catalogue, and share your meadow photographs with Elaine on Twitter and Instagram, using the tag #paintmymeadow, and be sure to tag us @thenorthwall.