Alice Vilanculo has just been awarded The Stage Edinburgh Award for her performance as Bailey in E8. She recently graduated from the NYT Rep Company 2018. Here she talks about her Edinburgh Fringe experience:
You've been involved with E8 since Marika wrote the first section for Catalyst – how has the play changed since then?

The first R&D of Marika's E8 was in 2017 at The North Wall, the same year that I was on the Catalyst programme. I think it's safe to say that, after our first read-through, everyone knew that Marika had written an incredibly beautiful and harrowing piece on the world of PRU schools and those within them. Many people are aware of these centres, but rarely directly engage with them or the issues, such as funding cuts, that Marika's play tackles head on. The two-week Catalyst programme culminated in a 15 minute scratch and received a lot of love. The core of E8 has very much stayed the same throughout its development, but like any other piece that is set in the present day it has been tweaked to represent the changes both in the social and political climate, and even things as simple as the slang used by young people, which is constantly changing.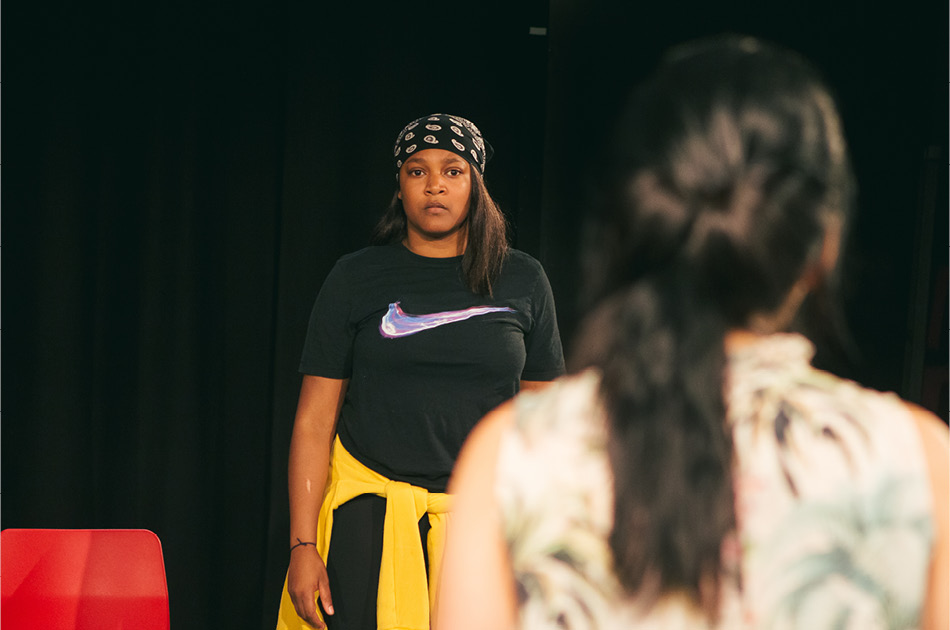 What's been the most challenging thing about bringing the character of Bailey to life?
As a student I was the epitome of a goody two shoes/ teacher's pet (very proud to say I had my first detention in Year 10, and for the record it was for something I did not do!) However, I went to school with a lot of girls who on the outside were a lot like Bailey; constantly came in late, disrupted lessons, would verbally attack teachers and physically let loose on other students. They did all this whilst being the most charismatic, loving people ever. I genuinely didn't understand these girls at the time, and even judged them. Bailey is so psychologically complex, which makes so much sense given her home life and relationships. There were definitely times during rehearsals where I found it difficult to comprehend her actions and motivation to do things. Playing Bailey has been such an eye-opening and emotionally rewarding experience. She is a soul that needs to be seen.
What's been the best audience response to E8 so far?
It has to be the first impromptu sing a long to the Arthur theme tune. It honestly brings so much joy to hear the audience take a trip down memory lane for a split second.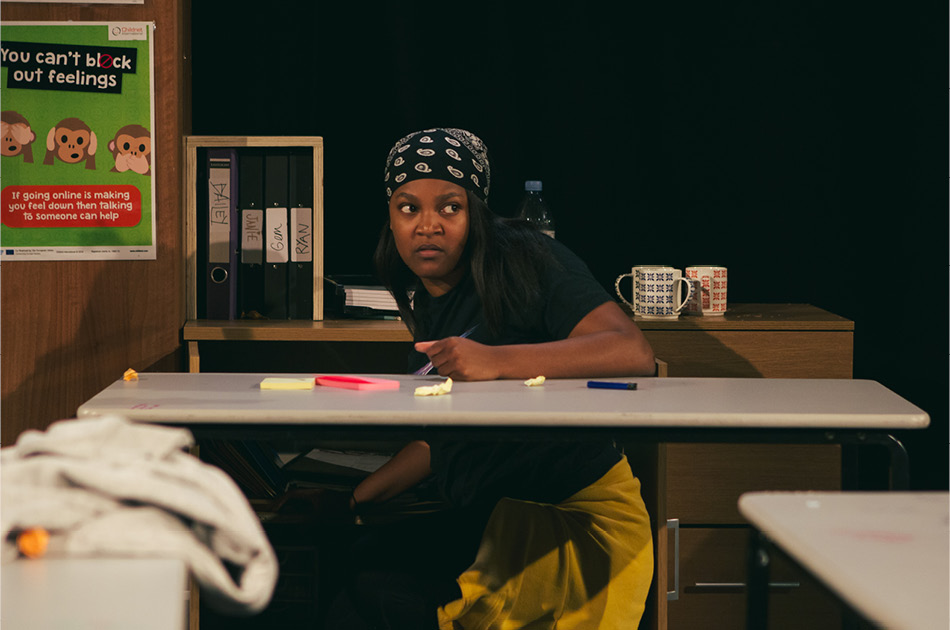 Tell us about your top three Edinburgh Fringe moments.
Spending the morning going up to Arthur's seat
Discovering the Bao bun food stall on Bristo square
Unexpectedly receiving The Stage Award
And how does that big award win feel – where will you keep it!?
It's been a few days since our director Ria told me that I had won The Stage Award but I still can get my head around it. It makes me very happy to know that Marika's piece, Ria's guidance and the cast's commitment is being recognised. I think I'm gonna place it in a different room at home every month. Cant wait to bump into it in the laundry room!
Why should people come and see E8?
I think that anyone that is interested in the educational system, social care, youth work and the future of Pupil Referral Units should come watch E8. it's very authentic to the environment its set in, which sometimes means you don't know whether to laugh or cry! Ultimately, there's something in it for everyone… See you there?!
E8 will be performed from 31 July – 25 August at 4.10pm (1hr) at Pleasance Dome. Book tickets here.