Hannah Smith, producer at The Wardrobe Ensemble, introduces us to the young producers taking part in our summer ArtsLab residency, and reflects on their time so far:
As part of the The North Wall's ArtsLab programme, The Wardrobe Ensemble are creating a new devised show with a group of 30 young theatre-makers. Tom and Jim are working with the performers to devise a new show about the internet, called S A F A R I, and I am working with five young producers to make the whole thing happen. It's the first time there's been a producing strand to ArtsLab and I am VERY pleased and proud that we've made it happen and even more pleased to get to work with these five women (they are the future of theatre – watch this space). There are also designers and stage managers who are working their socks off to bring it all to life in the super cool ex-swimming pool theatre which is the North Wall. We're now at the beginning of our second week, with the show on Friday (eek). Here are our reflections from the first seven days…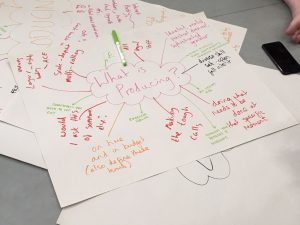 Day 1, Monday – Fran
day 1. delayed train, ending up in no man's land of Princes Risborough. finally arriving at one's destination, sister Em with coffee latte in hand. sip sip sip. overly-friendly cab drive later and entrance into The North Wall. awkward introductions, key card given. lady power to organise everyone and everything. cool ass techies and designers onboard. tour of Teddies, flashbacks of why we don't return to school, boarding triggers me. fear of opening drawers, dodgy content. drawings on the wall, childlike fantasies. food food food, "it's free". interaction with actors, rectum ball – this is why we stay behind the scenes. name games, a classic. girl gang assemble again, chat about our stories. we are the granddaughters of the witches you weren't able to burn. natter past, natter present, natter future. school dinner, too many kids. relaxing in the common room, with the magic man where the cards slip through his fingers and my mind. the mainstream is calling, Love Island finale. wine and beer. late night chats, found common ground in drag glitter dreams which take me to sleep.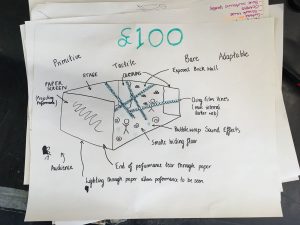 Day 2, Tuesday – Saxon
The day starts with a rude awakening from the fire alarm. We were warned, but this does not prevent my confusion regarding what is happening. Is it normal to see the world before 10am? I ponder this question over breakfast. My thoughts are inconclusive.
We start our first session of the day talking about what it actually means to be a producer, and after reading many different opinions we determine that the producer does a little bit of everything, and a lot for the creation of a show. For me, the most enlightening element was learning about the different types of producers. As we discuss commercial producing, I rapidly delete my half-finished job applications to work in the West End. I breathe a sigh of relief. Thanks for the heads up – I think I'll start looking into in-house producing instead.
After viewing the theatre and heading to lunch, we spend the afternoon taking part in a design workshop with Kate, a designer who has worked with The Wardrobe Ensemble on previous productions. The three main points I learn from this are as follows:
String is anything you believe it to be.
ArtsLabs residents love fish tanks and octopi.
Creatives have no concept of how much £100 will actually get them (cue the Producers – don't worry, we've got your backs).
Final task of the day – assign our roles. Marketing, I choose you. Now off to the pub for some friendly card games. Bring it.
Day 3, Wednesday- Emily
I wake up (late) miss breakfast again, vow that I will get up in time tomorrow. I get a coffee on the way to the theatre. We have huge chats about productions that we've worked on, about nightmare productions and the politics of student drama. I giggle a lot. We receive instructions to look for a rock band consisting entirely of 15 year olds. We giggle a bit more then start trawling the internet. I get another coffee.
We sit in the the raked theatre seating whilst Amy from the North Wall has a chat with us about her role as marketing and programming manager. I bombard her with questions about how the theatre programs work, how it stays financially viable, how they decide what to show and when.
I overload on lunch AGAIN because I love a soup and a salad but by the time I've finished those I don't have room for my spaghetti and meatballs. I have a coffee.
Fran and I make a slick powerpoint with questions for cohort speed dating tonight. When eight o clock hits, I have a can of budweiser and some mini cheddars. I talk to everyone I haven't met yet, then we all stay up chatting until late. I do not make it to breakfast the next day.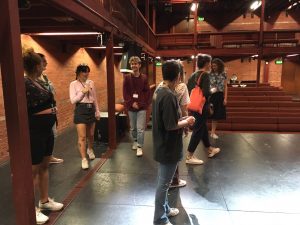 Day 4, Thursday – Mills
Today we worked in our little groups on individual tasks. I began by updating the budget with receipts that the designers had sent me (palm tree, ice cream and donut inflatable – holiday vibes? – check!) I learnt that pretty much everything has VAT on it, including biscuits but excluding cake… so I guess cake is an essential item?
We then had the chance to speak to Ria Parry, co-director of The North Wall about her journey from uni student at Royal Holloway to where she is today. She explained that immediately after Uni she became freelance and took any jobs within theatre, including marketing, box office and running workshops, and this understanding of the various roles certainly helped her and would encourage us to do the same. After landing her first proper job, she went on to create her theatre company, Iron Shoes. I then discovered we also have something in common; our partners are huge Middlesbrough fans! She explained the importance of telling people what it is that you do, eg. I am a freelance producer – and that speaking to people isn't as scary as it seems! We are all human after all, so let them know if you enjoy their work!
After lunch and running late we got the (very sweaty) bus into Oxford, and with a couple of minutes spare had the chance to look around the market at Gloucester Green. We found a great stall selling clothes for £1 – the designers were v pleased! We then went to The Old Fire Station and had a tour with programme and marketing manager, Alex Coke. She explained that the venue is also a joint charity with Crisis, and they encourage training, volunteering and the opportunity to see shows and exhibitions for homeless people. The venue also has a shop, selling items made by British artists, and in their gallery they often showcase an emerging artist's first exhibition. Theatre wise, the OFS only programme shows for adults; and are more than happy to take a risk on new work! They also do workshops and scratch nights for local companies. The space seems totally flexible and accommodating for new companies and artists. Alex also explained the importance of good marketing, including the thickness of the flyer paper and the dos and dont's of poster making!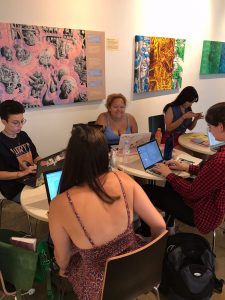 Day 5, Friday – Josie
My Friday morning starts off by trawling through my suitcase to find pastel coloured clothes for Hugo & Rhian, the designers. Their vision for costume and set ties in beautifully with the vapourwave-y aesthetic so I intend to (very politely) nab some sketches for the zine I'm working on. My two projects I am focusing on are creating a poster for the show and also a zine as an accompanying programme/ booklet for the show. I made sure today to ask all ArtsLab participants to write 2-3 sentences about the experience of the program, to go into the zine as 'words from the contributors'. In terms of lessons for the day we learnt about audience development and how it is pertinent for succeeding as a company – it's important when tour booking to create aims & objectives for the show you are selling – and select venues which match with your target audience to optimise success. We also looked various seasonal programmes for theatres in Oxford and discussed which copy and image were or weren't effective for selling a show to its audience. Alex from The Old Fire Station had sent over some helpful and funny documents on the do's and don'ts for copy & image – which will definitely help when creating marketing material for my own theatre company. After lunch, the day became increasing exciting; I discovered I'd achieved a first-class degree so I was pretty happy to say the least! We then observed and photographed the actors in their 'pit' (a large section of the stage at the back has been removed to create a swimming pool-like effect) which with the combination of haze and artificial pool-esque lighting looked like some sort of motel pool – very exciting. I spoke and showed my poster designs to Hannah and James and got some pointers on changes, which meant by Saturday afternoon I had created something everyone was pleased with (hooray!) I've really enjoyed my time here at The North Wall so far, Friday was particularly a stand-out day for me.