The first in a series of interviews with the cast and creative team of Fast Track.
Catriona Kerridge is the author of the North Wall's second home-grown production, Fast Track. She wrote the first draft of the play when taking part in our ArtsLab in 2012, and we've spent the last two years working with her to transform the play from page to stage. We asked her about her inspiration and her life as a writer.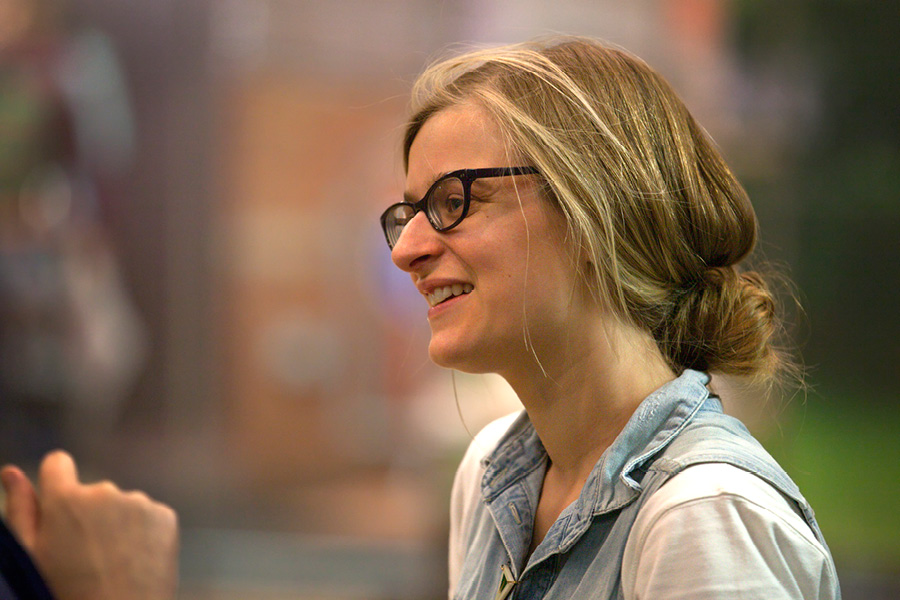 What was your inspiration behind the Fast Track?
Park, money, British-ness, music and shopping trolleys.
What could be more British than a park? I have always lived near one – they come in different shapes and sizes, some have fences and some have ponds and football pitches. I find them fascinating places – not just the park but also the people that are in them.
There are numerous characters and personalities hanging out, sitting silently or exercising in a park – which made for a great starting point and backdrop for the characters. I saw a jogger with her headphones on listening to her own soundtrack passing me by – completely immersed in her own world. And that was where the play really started. I knew I wanted a park and a jogger.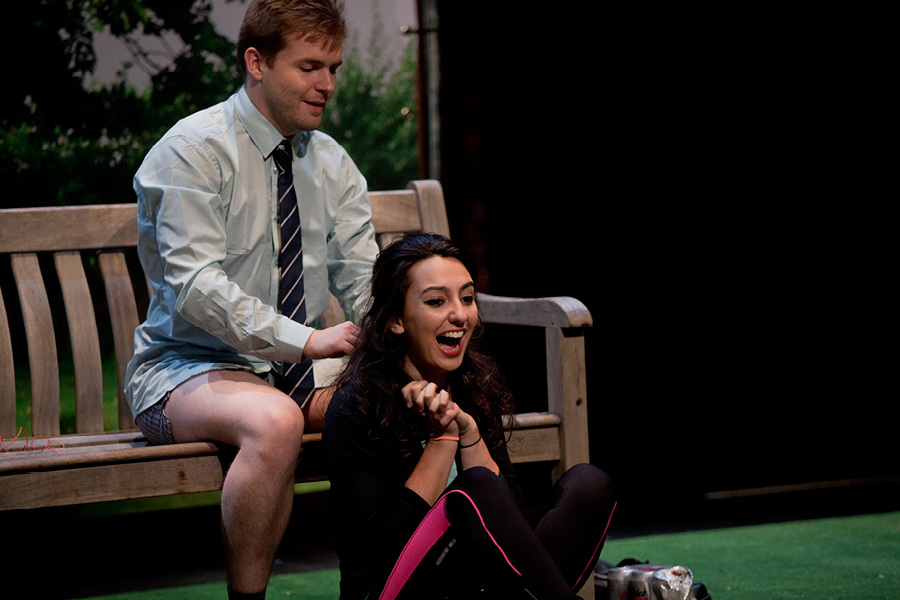 I was excited by the amount of people that come and go in a park a public place filled with silent thoughts. We go to a park to relax, to run, to think away from all the shops, the bills and work. And as I was writing the dialogue I realised that what linked all these characters is money, coming to terms with it and handling it.
Along the way Lucy [the director] introduced me to the Japanese Artist Lio Bolin. And I became fascinated by the idea of invisibility. Another big inspiration was an old nonsense rhyme taught to me by my Grandad: As I was walking down the stairs I met a man who wasn't there. He wasn't there again today "oh I do wish he would go away" It is nonsense but a bit of a truth resonates within it as people run past you, maybe even catch your eye and then they are gone, they become strangers, invisible people.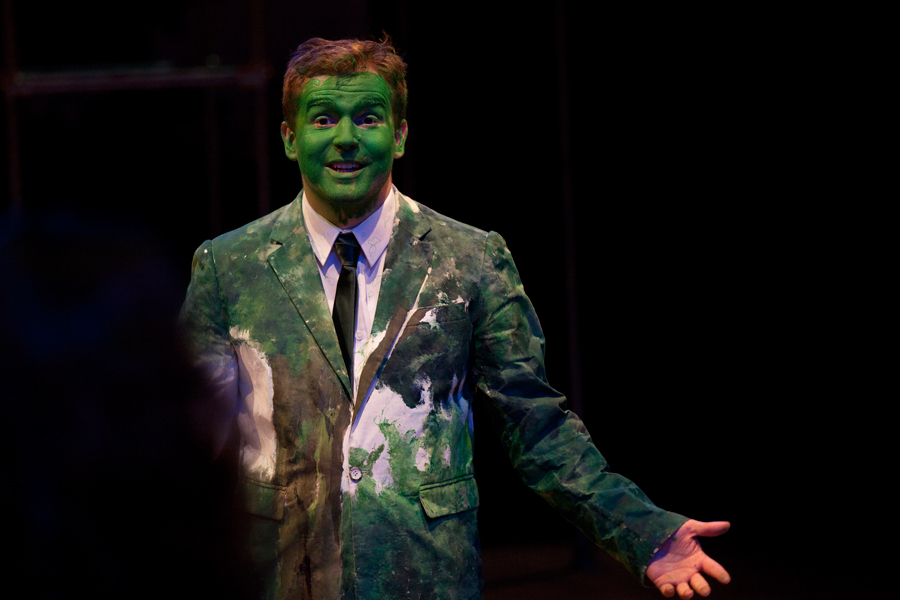 Tell us about the writing process from first to final draft:
When I write I start with an image – so I started with the image of someone jogging, running in the park wearing headphones. She's listening to music so I put on some music. What's her taste? What kind of jogging gear is she wearing? I let this seep in to my subconscious. I make notes, I doodle, I find images, my sketch book starts filling up. Anna's song was 'Sun' by the Naked and the Famous. When I heard it I felt like it belonged to her. I then started writing dialogue, introducing new characters. I gave each character their own music and would write with the song playing in the background.
I started writing the first draft during the North Wall Outreach in 2012, which focused on the how young people were impacted by the recession, so inevitably I found extra information and inspiration in the work that was going on in their rehearsal room. A big question they kept asking was: How do we keep our money safe when the banks can't?
I was lucky to be working alongside the outreach project which meant I could sit in the rehearsal room or in the office next door, I could hear all the outreach performers exploring ideas, singing, moving, stamping, talking which directly fed in to my writing, and without realising it you start writing to the same rhythm.
Scene by scene as I'm writing I introduce images, I keep asking what if? What if the character decides to stay? In the first draft I let them do what they want. It's complete chaos. But letting the dialogue take control means that there is a pace & a rhythm to each character.
At the end of the day I usually read it aloud, but I was lucky enough during this process to hear scenes being read by a series of talented actors at the North Wall and HighTide Theatre. Hearing it with different voices is essential it gives you the opportunity to listen out to what works and doesn't work. Do the characters sound real? This was a great way to edit, to change things and expose the holes in the story.
For Fast Track I received mentoring from Tom Wainwright, Inua Ellams and Lucy Maycock and kept receiving images from Alex Berry [the designer]. Having people whose feedback and ideas you value is essential and talking about the work gave me a chance to re-connect and focus on what it is that feels so important about this play. I am always open to feedback, having received feedback along the way from Steve at HighTide and audience members at readings meant I could really hone in to what is exciting about the play.
It has been the longest process writing wise that I have ever done. A good few years from page to stage but it is a big play with big characters. I always carry a notebook and am ready to question everything as without questions the world would be too perfect to write about.
What other projects are you working on at the moment?
Shoot I Didn't Mean That at the Tristan Bates Theatre (23 September – 18 October 2014) A play inspired by Karl Kraus's Last Days of Mankind. My play will feature alongside his as part of a double bill marking this years centenary of WW1. I have written a surreal comedy about war featuring four women.
'SWINES' (16-19 October 2014) 47/49 Tanner Street Part of a mini season of theatre making. This is an interactive game show created by the collaborative theatre company Bad Host. Contains: music, arm-wrestling and glitter.
Come To Where I'm From at Southbank Centre Literary Festival (10 – 12 October 2014) This three day installation features an interactive map of the UK that allows listeners to hear tales of home from over 100 of the UK's playwrights – I've written something about Oxford.
What are you interested in working on in the future?
At the moment I have a couple of projects stewing and new collaborations forming. Images that I have started collecting are of beekeeping, space travel, Pippi Longstocking and a female surrealist – let's see what that brings. I have a new project in mind for Bad Host – but shh I haven't told them yet. And am planning to bring 'They call me Nina' by In Transit Theatre from Lima, Peru to the UK.