It's the end of week two of our summer residency and things are starting to take shape. The ensemble have moved from the studio to the auditorium, the design team have started building the set and the actors are busy learning their lines. Performer Grace Saif takes us through her journey over the last week:
"The importance of 'pushing through' has been become a real motif rolling on into week two of the project 'Fragment' with Iron Shoes. The mentors on this course strike the perfect balance of feeding ideas into the group, whilst allowing us to bring our own into the space, which has led to some of the most beautiful, imaginative and mischievous work that has been an absolute delight to witness.
Listening has been a major focus for the company, bleeding into all of our sessions, whether it's music or movement. This week especially, the finding the 'sweet spot' between listening to your own body and every single one of your partners in the room has led to some deliciously electric moments in our movement sessions. There was a tangible shift emotionally within the company this week, which has had a surreal effect on our work; allowing us to become so in tune and fluent with one another, devising material at a much quicker pace.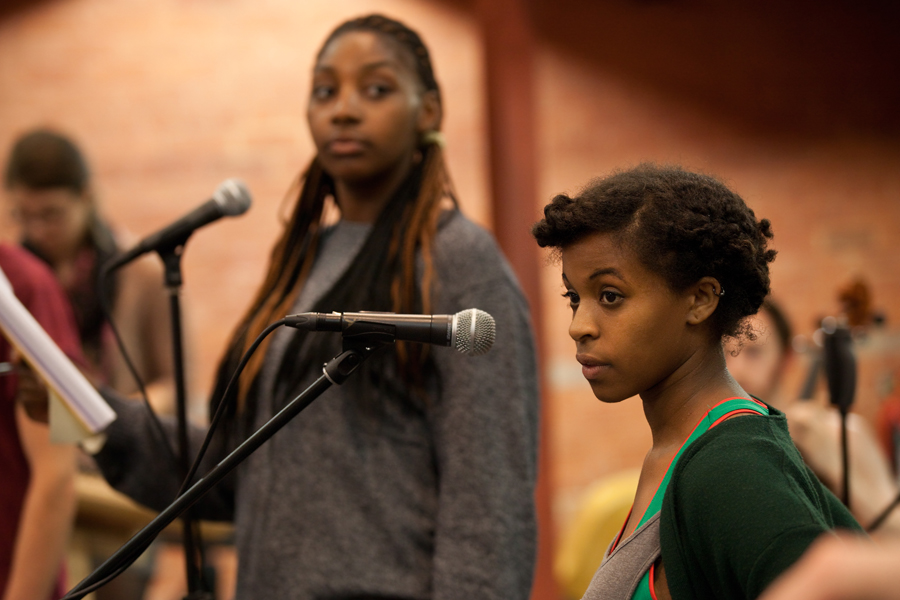 One of the hardest challenges I have worked through this week has been the music, which is beautifully composed and performed by members of the company as well as the MDs. I admire the amount of care and attention there has been to push us all to find our individual potential, which for me, was finding the limits of my own voice regarding the singing involved for the songs in 'Fragment'. In these moments of pushing and extending beyond my limits, the camaraderie on this project has meant so much more, even if it just as little as comparing aches and bruises in the morning before going hard into another movement session. It's an open, playful environment to create work in, with the collaborative effort extending long after the class hours: there is always an opportunity to jam with extremely talented fellow musicians, or bounce written work off of budding writers, which is such a treat.
This level of energy and focus is only possible as a whole company, particularly at this stage, where the real bones of the performance are beginning to take their shape, and I have been in total awe of my fellow performers all this week. I know that the work we will go on to share at the end of the project will carry that incredible level of energy and magic."