Each year, our ArtsLab summer residency unites early career actors, designers, writers and technicians aged 18 – 25 with a professional theatre company to form a brand new ensemble with the aim of exploring ideas and developing new work.
This summer, the project is led by Iron Shoes and Dom Coyote Productions, who present Fragment, a blend of songs & stories meditating on love, loss and heartache.
The project began on Monday 21st July with all of the participants meeting each other for the first time and moving into one of the St Edward's School boarding houses together. Since then, they have been hard at work in the drama studio. At the end of their first week, we asked one of the actors, Zoe Zak, to give us a round up of what's been going on…
"A week into the R&D with Iron Shoes and I can honestly say I have treasured every moment of it. The group works wonderfully together, with a strong focus running through each session. The combination of story, music and movement have already begun to form what I am certain will be a magical, visceral and moving piece of theatre.
The intertwining stories are anchored in emotional, human and scientific truths and are told through beautifully honest, subtle and grounded writing – an absolute dream for an actor. The music, all of which is original, varies from unusual, intricate harmonies and complex rhythms to catchy upbeat summer tunes. And with a room full of talented singers, the sweet sounds that wash over us on a daily basis are a pure joy!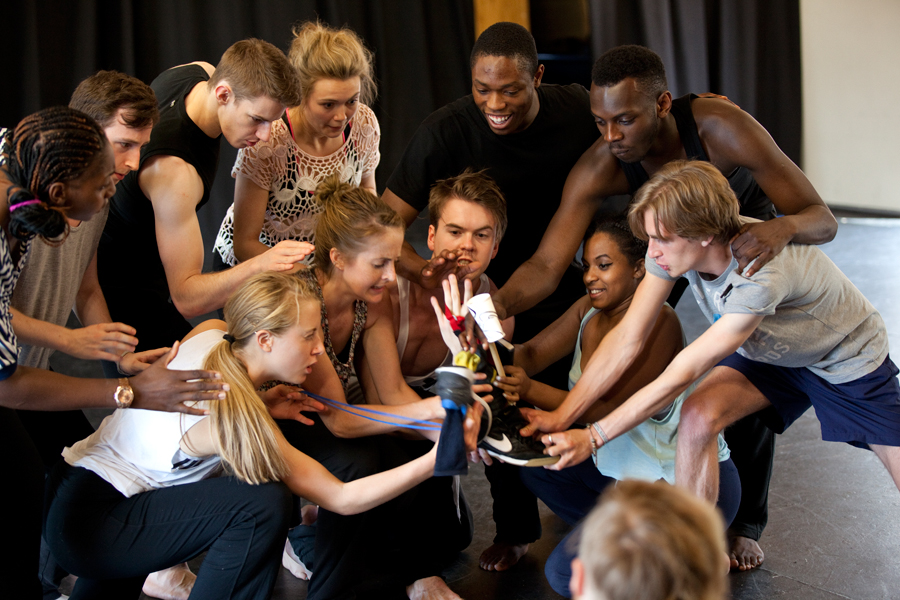 "The final element, which I have particularly relished, is movement. We've spent a lot of the week focusing on the basics; breathing, and leading from the core in order to encourage a natural flow of movement. There is a large emphasis on the ensemble learning to truly listen to each other, which, when achieved, has allowed for moments of truth and honesty that are a treat to experience, both as a performer and a spectator.
Every day I have come out of the sessions feeling grounded, inspired, focused and challenged, having learnt a huge amount from both the professionals in the room and my fellow performers."