The North Wall is a COVID-secure venue, following all the safety measures set out in the government's guidelines, which means we can continue with socially-distanced exhibitions, performances and workshops. This will still be the case under the new Tier 2 restrictions in Oxford from Friday 4 December.
Our team are working hard to ensure the safety of all audience members and artists who visit us. We've implemented new safety procedures, including: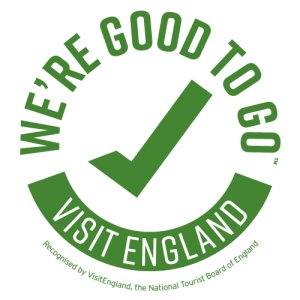 Enhanced cleaning measures
Limited capacity in the gallery and theatre
A one-way system and social-distancing markers in the gallery & foyer space
Hand sanitiser dispensers installed throughout the building
Temperature checks on arrival for audiences watching a show
Face coverings for members of staff
We're currently only accepting contactless payments for any bar, box office or gallery purchases.
E-tickets for ticketed events – please download these to your device or print at home and have them ready for scanning when you arrive.
We're also asking visitors to stick to these simple safety guidelines:
Face coverings – please wear a face covering throughout your visit, including when you are seated to watch a performance. If you are exempted from wearing a face covering, you may wish to display an exemption card or badge, or download one to your mobile device.
Children aged under 11 are not required to wear a face covering.
Hand sanitising – please sanitise your hands when you arrive at the venue.
Social distancing – please observe a 2m social distance in the gallery and foyer spaces. In the theatre, please remain in your allocated seat.
Group size – we are only allowed to welcome visitors booking in a group if they are from the same household or support bubble, with a maximum of 6 tickets available per booker. Under Tier 2 restrictions, throughout the venue,  it is not permitted to socialise or join with other groups at any time.
NHS Test and Trace – All walk-in visitors will be asked for their contact name and telephone number for Test and Trace purposes. We'll store this securely and delete it after 21 days. If you have booked a ticket to see a show or exhibition, we will already have your details on record so will not ask for them again. Our Test and Trace QR code are on display at the entrance if you wish to check-in using the app.
Feeling unwell – if you or a member of your household is showing symptoms before the show, please stay home and rest, and follow NHS guidance about self-isolating. Contact the box office before the show to let us know and we will issue a full refund or credit voucher. If you become unwell during your visit, please make a member of our Front of House team aware.
Visiting The Theatre
A full risk assessment is available on request – please email contact@thenorthwall.com for more details. We'll continue to review our procedures in accordance with government and local guidelines for venues, so please check this page for the latest information before your visit.
Updated: 2 December 2020