An uplifting and relaxing hour with live musician, Sophie Ross, playing beautiful acoustic versions of well-known folk, jazz and pop songs.
Songs are accessible and enjoyable for both big and small ears alike, alongside beautiful atmospheric sensory visuals from Filskit Theatre.
Recommended for ages 0-7
---
Tiny Ideas Festival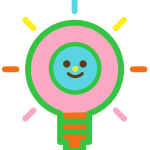 This event is part of Tiny Ideas Festival.
Follow Tiny Ideas and make Big Dreams come true! Oxford's first Early Years arts festival for 0-7 year olds and their families runs from 30 September-2 October in venues across the city.
Other festival events at The North Wall: Hey Little Bird; Teresa Heapy