Stav Meishar: The Escape Act: A Holocaust Memoir
Sat 07 May 2022 | 8pm
Written and performed by: Stav Meishar
Directed by: Shoshana Bass
An extraordinary one-woman historical circus-theatre show based on the incredible life of Irene Danner, a Jewish acrobat who witnessed the rise of the Nazi Party as a teenager and survived the Holocaust hiding and performing at the German Althoff Circus.
In this feat of dynamic physical storytelling, using puppetry, acrobatics and rare archival footage, New York performer Stav Meishar, a grandchild of Holocaust survivors, charts Irene's life from youth to epic escape, and the budding of a new circus family.
Blending past and present through the intertwining voices of storyteller and heroine, this stirring work, told with enormous wit and charm, is a powerful reminder of the positive impact courageous acts can have for generations to come.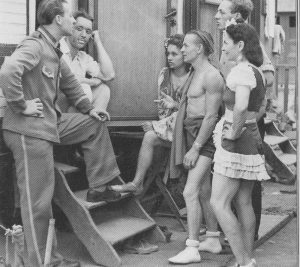 Irene Danner and her family
at the Althoff Circus
'The story is engaging, and the theatre-crafting is meticulous… a pleasure to watch.' Circus Diaries
'A smart, well-performed and informative piece of theatre… well worth checking out.' ★★★★ London City Nights
Age guidance: 10+
Running time: 60 mins / no interval