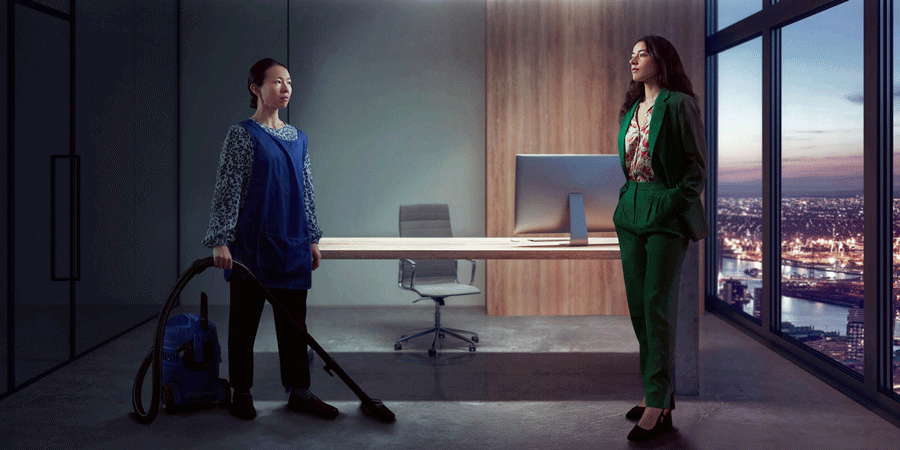 Angela Yeoh as Yvette (left) and Anya Jaya-Murphy as Nisha (right) | Photo: © The Other Richard
Actors Touring Company and Orange Tree Theatre, in association with Theatre Royal Plymouth: RICE
Fri 18 – Sat 19 Feb 2022 | 7.30pm
Written by: Michele Lee
Directed by: Matthew Xia
Nisha is a young hotshot executive working for Australia's largest rice producer. Ambitious and headstrong, she's determined to become the first female Indian CEO in Australia, sealing a contract to take over India's national rice distribution system. Yvette, an older Chinese migrant, is the cleaner who sees to Nisha's desk. Yvette has her own entrepreneurial ambitions, but also an unruly daughter who faces court after an environmental protest. The two form a powerful – if unlikely – bond as they navigate the complexities of their lives and the world at large.
Rich in character, this evocative two-hander is a thought-provoking, funny and surprisingly touching take on race, class, environmentalism, globalisation, office politics, family and female friendship.
'Office politics brought sharply to life… Michele Lee's two-hander is a thoughtful take on the power of women at work.' The Guardian
'A play that feels both ambitious and necessary… strikingly designed… commanding the stage from the outset.' The Stage
'A heady broth of gender, generation and globalisation.' Australian Stage
'Whip smart.' Arts Desk
READ: In an interview with &ASIAN's Yin Ting Lau, Hmong-Australian playwright Michelle Lee chats about her experiences as an Asian writer, and which of her experiences and inspirations influenced her play, RICE. (Yin Ting Lau, 21 Oct 2021, &ASIAN)
RICE is the European premiere of Asian-Australian writer Michele Lee's award-winning play.
Age guidance: 14+ (strong language)
Running time: 95 mins / no interval
#Rice2022Tour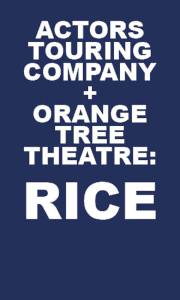 Credits:
Cast: Angela Yeoh (Yvette), Anya Jaya-Murphy (Nisha)
Writer: Michele Lee
Director: Matthew Xia
Associate Director: Ameera Conrad
Designer: Hyemi Shin
Design Assistant: Isabella Van Braeckel
Lighting Designer: Bethany Gupwell
Lighting Associate: Chris McDonnell
Sound Designer/Composer: Lex Kosanke
Movement Director: Asha Jennings-Grant
Dialect Coach: Catherine Weate
Fight Director: Joe Goldby
Stage Management Team:
Company Stage Manager: Oran O'Neill
Carolina (Nina) Madriz
Assistant Stage Manager: Yasmin Brook
ATC Team:
Artistic Director: Matthew Xia
Executive Director: Andrew Smaje
ATC and LAMDA Associate Director: Ameera Conrad
Finance Manager: Kate Sarley
Associate Producer: Melina Morris
Administration Director: Juliana Bearse
Above: Angela Yeoh as Yvette and Anya Jaya-Murphy as Nisha | Photos: © Steve Tanner