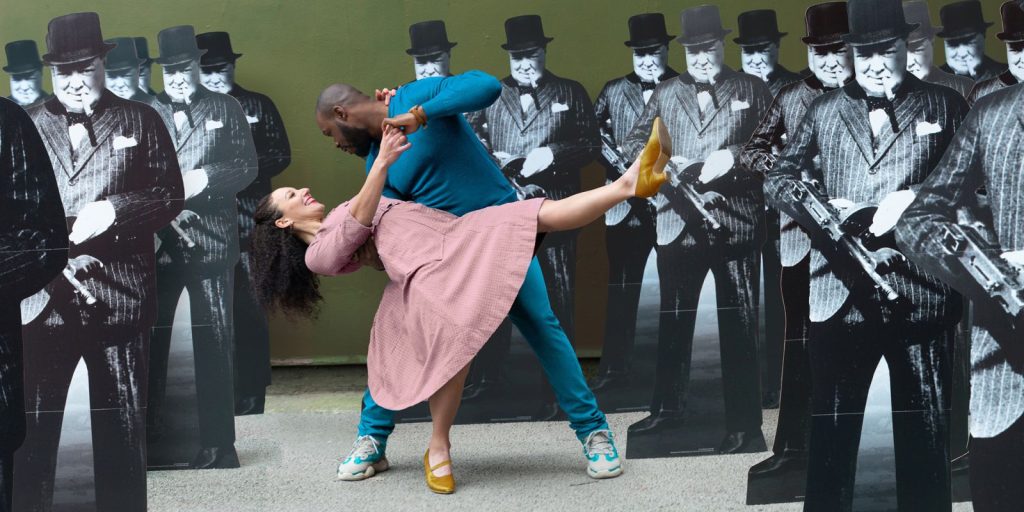 Photo: © Guy J Sanders
Kandinsky: The Winston Machine
Thu 24 – Fri 25 Feb 2022 | 7.30pm
★ ONLY SHOWS OUTSIDE LONDON ★
'No-one else makes theatre quite like this' (★★★★★ Time Out); The Winston Machine is both a profound family saga and an epic, unmissable state-of-the-nation show.
Keep calm. Carry on. Blitz it out. Dig for history.
At the height of the Blitz, Charlotte is in a passionate affair with a Spitfire pilot, fighting fascism in red lipstick and living each day like her last. Eighty years later, her granddaughter Becky is stuck in her hometown, cooking dinners for her dad and singing old songs at other people's weddings, dreaming of a better time.
The 1940s are more real to Becky than her life – but when a friend moves back to town, she's forced to face the present. What happens when there's no war left to fight?
An epic, intimate family saga, The Winston Machine is an unmissable new state-of-the-nation show that asks how we live with what we inherit.
The multi-award-winning Kandinsky (Dinomania, Trap Street) is internationally renowned for its exciting, entertaining, endlessly inventive devised work.
'A dance across the decades… a typically probing and playful work, shot through with music and mischief. Directed with head-rushing freedom by James Yeatman and with deft dramaturgy from Lauren Mooney.' ★★★★ The Guardian (on The Winston Machine)
'Striking design, smart staging… a vivid, stylised new piece from award-winning ensemble Kandinsky… slick, insightful and often very funny.' ★★★★ The Stage
'Unmissable. An exceptional, innovative examination of the idea of Remembrance. With an outstanding cast and impressive score, this is a challenging and engaging triumph.' ★★★★★ Everything Theatre
'An intriguing, fascinating show… visually arresting [with] a mesmerising score.' ★★★★ WhatsOnStage
Age guidance: 14+ with parental guidance.
Running time: 90 mins / no interval
Content guidance: contains haze effect, strong language, and some sophisticated themes, including warfare and PTSD; adverse childhood, relationship and family experiences; experiences of racism; and mental health issues.
Credits:
Director: James Yeatman
Dramaturg/Producer: Lauren Mooney
Associate Director: Segen Yosef
Production Manager: Crin Claxton
Co-designers: Joshua Gadsby, Naomi Kuyck-Cohen
Composer: Zac Gvirtzman
Sound Designer: Kieran Lucas
Stage Manager: Grace Hans
Engagement Producer: Peter Laycock
Company of performer-devisers: Nathaniel Christian, Rachel-Leah Hosker, Hamish MacDougall
About The Company:
Led by James Yeatman and Lauren Mooney, the multi-award-winning Kandinsky is a 'seriously talented company' (Lynn Gardner, Stagedoor), internationally renowned for its exciting, entertaining, endlessly inventive devised work.
The company has toured internationally, including an acclaimed run at Berlin's renowned Schaubühne Theatre and a commission from Vienna's Schauspielhaus. Shows have won the Sunday Times Playwriting Award, Peter Brook Festival Award and OffWestEnd Best Ensemble.
Director James Yeatman is an Associate Director of Complicité.