Join Emma in her fancy hat shop as she tells the touching tale of a freshly hatched bird and his search to find his mum. What kind of bird will he turn out to be?
A gentle tale for very young audiences featuring music, magical shadow puppetry, and a whole host of birds made out of hats!
Recommended for ages 2-7
---
Tiny Ideas Festival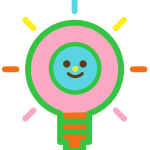 This event is part of Tiny Ideas Festival.
Follow Tiny Ideas and make Big Dreams come true! Oxford's first Early Years arts festival for 0-7 year olds and their families runs from 30 September-2 October in venues across the city.
Other festival events at The North Wall: Wonder Gigs; Teresa Heapy