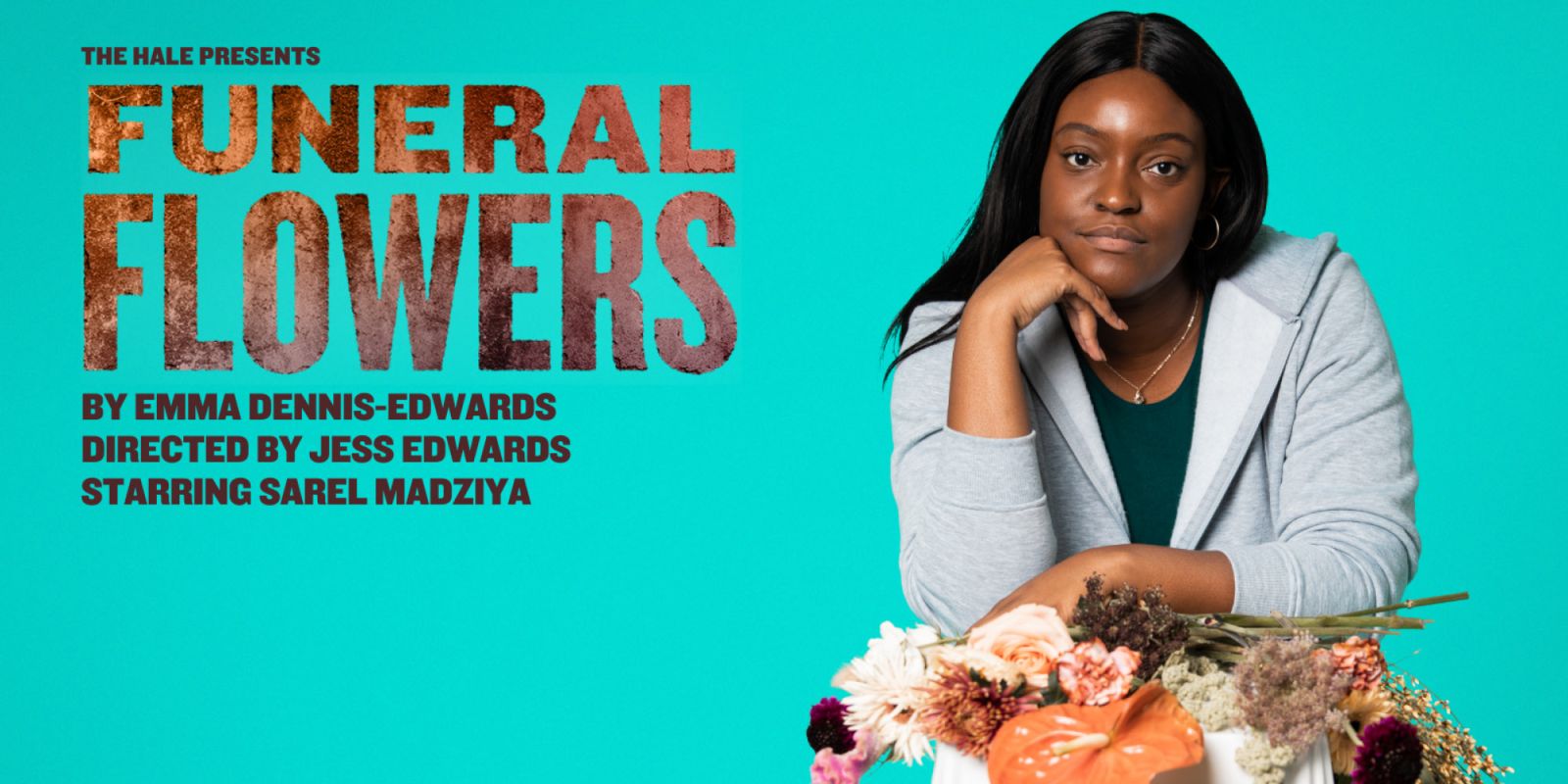 Alchymy 2022
The Hale presents
Funeral Flowers
Sat 09 Apr 2022 7pm-8pm
The North Wall Arts Centre: Theatre
Written by: Emma Dennis-Edwards
Directed by: Jess Edwards
Performed by: Sarel Madziya
★★★★★
A Younger Theatre

★★★★
The Scotsman

★★★★
The Stage
Can you escape the cycle you've been bound by your whole life?
Emma Dennis-Edward's multi award-winning play tells the story of seventeen-year-old Angelique, who's forced to navigate the care system after her mum's imprisonment. Part poetry, part play, Funeral Flowers is a 'funny, fearless and heart-breaking' (Lyn Gardner, The Stage) show about a young woman who dreams of being a florist.
Inspired by the remarkable story of Tottenham community leader and businesswoman Gina Moffatt, who created her own floristry business whilst incarcerated at HMP Holloway.
Winner of the Filipa Bragança Award for Best Solo Performance 2018. Winner of a Scotsman Fringe First Award 2018.
'Funny, fearless, heart-breaking.' Lyn Gardner, The Stage
'Impassioned, urgent storytelling.' ★★★★★ To Do List
'Bursting with power and intense immediacy.' ★★★★★ A Younger Theatre
'Engagingly performed and smartly written.' ★★★★ The Stage
Tickets: £10. Unreserved seating. Free with Alchymy 2022 Festival Pass: £25 BOOK NOW
Running time: 60 mins / no interval
Age guidance: 18+ (homophobic language, drug use, sexual and domestic violence)
Content warning: This production contains subject matter and scenes of sexual violence which may be triggering to survivors of sexual assault. Readmittance to the performance is permitted at anytime should you feel the need to leave.
---

Alchymy 2022
Fri 08 – Sat 09 Apr 2022
Alchymy is The North Wall's annual new work festival shining a light on the talents of early-career theatre-makers and presenting bold new work.
The festival features fantastic work made by ArtsLab alumni and North Wall Creative Associates. ArtsLab is The North Wall's renowned artist development programme, working annually with writers, directors, technicians, designers, producers and makers from across the UK.
2022 performances:
Fri 08 Apr 2022 7pm: Catalyst Showcase
Sat 09 Apr 2022
12pm-1pm: Max Percy: Baklâ (Work-In-Progress) (18+)
3.30pm-4.30pm: Alex Roberts & Co: No Place Like Home (Work-In-Progress) (16+)
7pm-8pm: The Hale: Funeral Flowers (18+)
9pm-10pm: Gigglemug: The Bean Spillers: The Improvised Musical (14+)
2022 workshops and panels:
Sat 09 Apr 2022
1.30pm-2.15pm: Movement And Physical Theatre For Wellbeing (Workshop) (14+)
2.30pm-3.15pm: Who Do You Think You Are? (Panel) (14+)
4.45pm-5.30pm: Thinking Outside The Box: Theatre And Arts Beyond The Proscenium Arch (Workshop) (14+)
5.45pm-6.30pm: How Do You Lead? (Panel) (14+)
Tickets:
Individual events (performances and workshops/panels): £5, excepting Funeral Flowers (Sat 09 Apr): £10. Book through website event pages above.
Alchymy 2022 Festival Pass: £25 BOOK NOW
Alchymy Pass holders have access to all events across the festival (performances, including Funeral Flowers, workshops and panel discussions), but booking is still required for each event.